Lil Tip: Formula Packets on the Go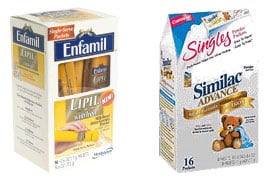 For moms in a pinch, getting a bottle of breast milk or scooping out formula isn't easy.
For months, I packed formula in zip-lock bags or in the bottles, but they weren't great options. Zip-locks are good for toting Cheerios, but getting powder out of them isn't easy. And if you pre-load a bottle with formula, it clumps to the bottom of the bottle, which will leave you shaking it for minutes.
That's when I found the Enfamil and Similac formula packs on the go and was beyond excited. Each packet makes 4 oz. of milk. All you have to do is tear off the top and pour the powder into a bottle of water. Since discovering these, I always keep a few packets and bottles in my bag. When it's time to eat, I just pour water in the bottle, add the packet and shake it up. They make traveling (and life) so much easier.