Lingerie For Women With C-Sections
SexCies "CorCelette" C-Section Lingerie: Ga Ga or Gag?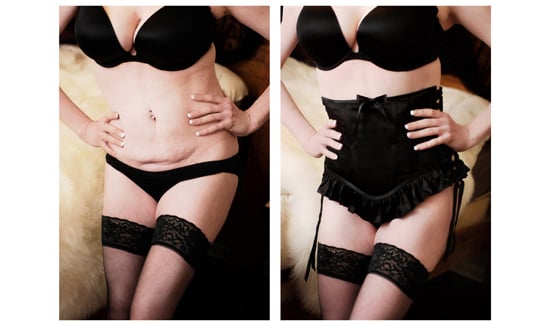 The postpartum body is full of surprises – an extra lump here, a little scar there, and a different shape all over. Mamas who've had c-sections, often have the added bonus of a little "ridge" that appears above their scar, and no amount of diet or crunches will melt it away. For those looking to rev things up in the bedroom, who can't see beyond their baby battle wounds, SexCies will be introducing the CorCelette (price not yet determined) next week. The lingerie shapeware is specifically designed to flatten that extra fold of skin. Created by a mom-of-three that was avoiding intimacy due to postpartum body issues, the garment places faux fur against the scar area to reduce irritation and keep women feeling good in bed. Would the SexCies CorCelette work for you?