Lion Cub Rescued by his Mom as He Cries Out for Help (PHOTOS)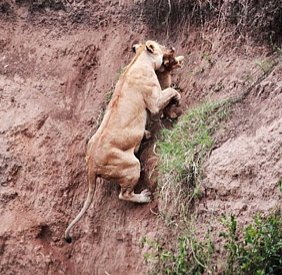 What a mother will do for her child is limitless. This breathtaking rescue, which took place in Kenya's Masai Mara National Park last August, demonstrates that the same goes for big cats.
After her cub had fallen into a steep ravine, a mama lion comes to the rescue, venturing down a dangerous slope to retrieve her baby. The frightened cub seems to be just inches away from losing its life, but the lioness manages to carry him in her mouth and brings him back up. The scary episode ends on an irresistible note as mama lion gently grooms her little one.
Do you know a mom who has risked her life or health for her child?