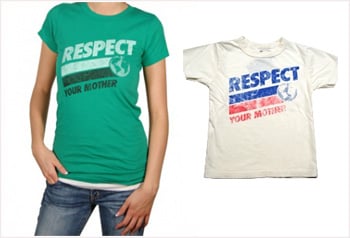 Every lil rascal needs reminding every now and then that mommy deserves mucho respecto.
Okay. I know there's a picture of Earth next to the world "mother", which changes the meaning of the Local Celebrity "Respect Your Mother" tee to "Respect Your Mother Earth." But can't it mean both?
To learn why this enviro-tee is so friendly,
.
The 100 percent organic cotton tee is doing more than it's fair share to respect mother nature. Part of the proceeds are donated to combat global warming. Adults and kids can make mama proud by sporting the Eco–friendly tees.