Lorena Garcia's Back-to-School Breakfast Recipes
Brain-Boosting Breakfast: Lorena Garcia's Latin-Flavored Morning Treats
Our mouthwatering Brain-Boosting Breakfast series continues with celebrity chefs and restaurateurs creating healthy, brain-boosting breakfast ideas to help keep kids going throughout the day.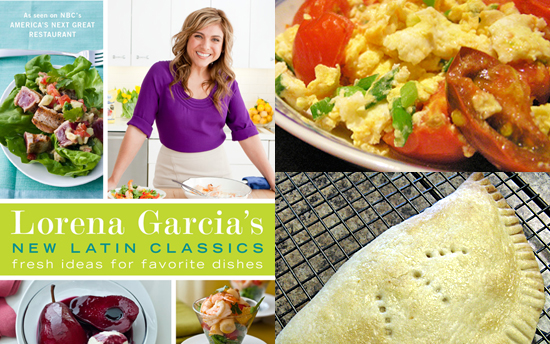 Eating healthy doesn't have to be boring for adults or little kids. Lorena Garcia, one of the nation's leading Latin chefs, has touted this belief everywhere from Univision Radio and The Today Show, to America's Next Great Restaurant. As the founder of Big Chef, Little Chef, a program designed to help kids and their families take control of their eating habits, Chef Lorena knows a thing or two about giving tots a healthy start.
To help lil' ones head off to school with full stomachs and rich minds, she's offering up two recipes from her New Latin Classics: Fresh Ideas for Favorite Dishes ($22) that are surefire hits. She said, "These crescent-shaped Spinach and Goat Cheese Empanditas are a high part of South American tradition. The spinach, which is high in iron, will help keep [kids] focused and full throughout the day. These can be prepared before and put into the fridge or freeze for eating when desired. Huevos Pericos [are eggs] scrambled with onions and tomatoes, and then lots of cilantro and scallions are added. This quick egg dish offers unique flavors for the morning that will not only wake taste buds but also, your brain!"
Keep reading for Lorena Garcia's recipes for Spinach and Goat Cheese Empanditas and Huevos Pericos.
Spinach and Goat Cheese Empanaditas
From the book, New Latin Classics by Lorena Garcia. Copyright © 2011 by Lorena Garcia. Reprinted by arrangement with Ballantine Books, an imprint of The Random House Publishing Group, a division of Random House, Inc. All rights reserved.
Ingredients
FOR THE SPINACH FILLING
1/4 cup pine nuts
6 cups spinach leaves
8 ounces fresh goat cheese (about 1 cup)
1 tablespoon fresh lemon juice
1 tablespoon kosher salt
11/2 teaspoons freshly ground black pepper
FOR THE EMPANADITA DOUGH
41/2 cups all-purpose flour
1 tablespoon baking soda
1 teaspoon kosher salt
1 cup vegetable shortening
1 cup cold milk
2 large eggs
1 large egg yolk
Directions
To make the filling, toast the pine nuts in a small skillet over medium heat, shaking the skillet often, until they're golden brown, 3 to 5 minutes. Transfer to a small plate to cool.
Place a large bowl of ice water on the counter. Bring a medium pot of water to a boil over high heat. Submerge the spinach leaves in the boiling water and immediately remove them and place them in the ice water to stop the cooking. Remove the spinach leaves from the ice water and squeeze out as much water as you can. Place the blanched spinach in the bowl of a food processor and add the cooled pine nuts, the goat cheese, lemon juice, salt, and pepper, and process until smooth, scraping down the bottom and sides of the bowl as needed. Set aside.
To make the empanadita dough, whisk together the flour, baking soda, and salt in a large bowl. Add the shortening and, using a pastry blender or your hands, work it into the flour mixture until there are no pieces larger than a small pea. Whisk the milk with one of the eggs and the egg yolk and add it to the flour-shortening mixture, stirring with a wooden spoon until a dough ball forms. Cover the bowl with plastic wrap and refrigerate for 30 minutes.
Preheat the oven to 400°F.
Place a small bowl of water next to a lightly floured work surface. Whisk the remaining whole egg with 3 tablespoons of water to make an egg wash and set aside.
Divide the dough into two pieces and place one piece on the floured work surface. Roll it out into a 1/4-inch-thick sheet. Use a 5-inch round cookie cutter to cut out as many dough circles as you can, keeping them close together to minimize the amount of dough scraps. Discard the scraps. Repeat with the remaining piece of dough. You should end up with about 40 dough circles.
Place one heaping tablespoon of the spinach filling in the center of each circle. Dip your finger or a pastry brush into the water and moisten the edge of the lower half of the circle. Fold the top half over the bottom half and press the edges together to seal. Crimp the edges using a fork and place the empanadita on a parchment paper–lined rimmed baking sheet. Repeat with the remaining dough circles and filling.
Brush the tops of the empanaditas with the egg wash and bake the empanaditas until golden brown, 12 to 15 minutes. Remove from the oven and serve warm or at room temperature.
Information
Category

Breakfast/Brunch
Huevos Pericos
From the book, New Latin Classics by Lorena Garcia. Copyright © 2011 by Lorena Garcia. Reprinted by arrangement with Ballantine Books, an imprint of The Random House Publishing Group, a division of Random House, Inc. All rights reserved.
Ingredients
8 large eggs
3 tablespoons milk
1 teaspoon kosher salt
2 tablespoons vegetable oil
1/2 small yellow onion, finely chopped
1 small tomato, cored and finely chopped
1/4 cup shredded cheddar cheese
2 scallions, white and light green parts only, finely chopped
1/4 cup finely chopped fresh cilantro
1/2 cup shredded queso fresco
Directions
Whisk together the eggs, milk, and salt in a large bowl and set aside.
Heat the vegetable oil in a large nonstick skillet over medium heat. Add the onions and tomatoes and cook, stirring often, until the onions are translucent and the tomatoes have released their juices, about 5 minutes.
Pour the egg mixture over the vegetables and, stirring constantly with a wooden spoon, scramble the eggs until they're cooked through, 3 to 4 minutes. Add the cheddar cheese and continue to stir until it is melted. Turn off the heat and stir in the scallions and cilantro. Divide the eggs among four plates, sprinkle with queso fresco, and serve.
Information
Category

Eggs, Breakfast/Brunch
Sources: Flickr User Laurel Fan and Flickr User clkohan