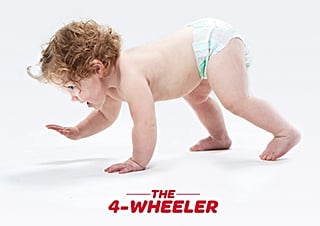 What do a Four-Wheeler, Rolling Pin, and Leap Frog all have in common? They're all examples of baby's squirmy moves during diaper-changing time.
Sound familiar? If you answered yes (or you're just a sucker for cute baby videos), you'll want to check out the new Huggies branded YouTube Channel, dedicated to the art of squirming!
It's easy to get your active baby in on the action. Just record and post a video of your baby's squirmy moves, and ta-da, your little one is a squirmy star! Parents of active babies everywhere are making changing time an easy time with Huggies Little Movers Slip-On Diapers as the stretchy sides and easy-on design let you slide on the diaper just like underwear. Are you a parent of an active baby? If so, switch up your changing time routine and give them a try!
Visit www.youtube.com/huggies to get started, and check out The Great Squirmy Baby Round-Up!
For more information about Huggies Little Movers Slip-On Diapers, visit Huggies.com. Follow @Huggies on Twitter for exciting product news, and visit www.facebook.com/huggies to become a fan and share tips and stories with other Huggies moms.