Reasons we're jealous of Malin Akerman: One, she's drop-dead gorgeous (seriously, can this woman take a bad picture?). Two, she's superchic, looking fab in everything from jeans and a tee to full-on beaded gowns. Three, she seems effortlessly funny! And, to cap it all off, she's maintained all that beauty, style, and sense of humor while pregnant with her first child.
Since announcing that she was expecting in late September, Malin, a Swedish-Canadian former model who had us rolling in Rock of Ages, has sported a mix of fashion-forward cocktail dresses, downtown-chic ensembles, and some spectacular gowns, including a showstopping, sexy beaded number at this week's inauguration. Keep clicking to check out our favorite looks in Malin's pregnancy wardrobe, and get ready to turn a little green with envy!
Beaded Bump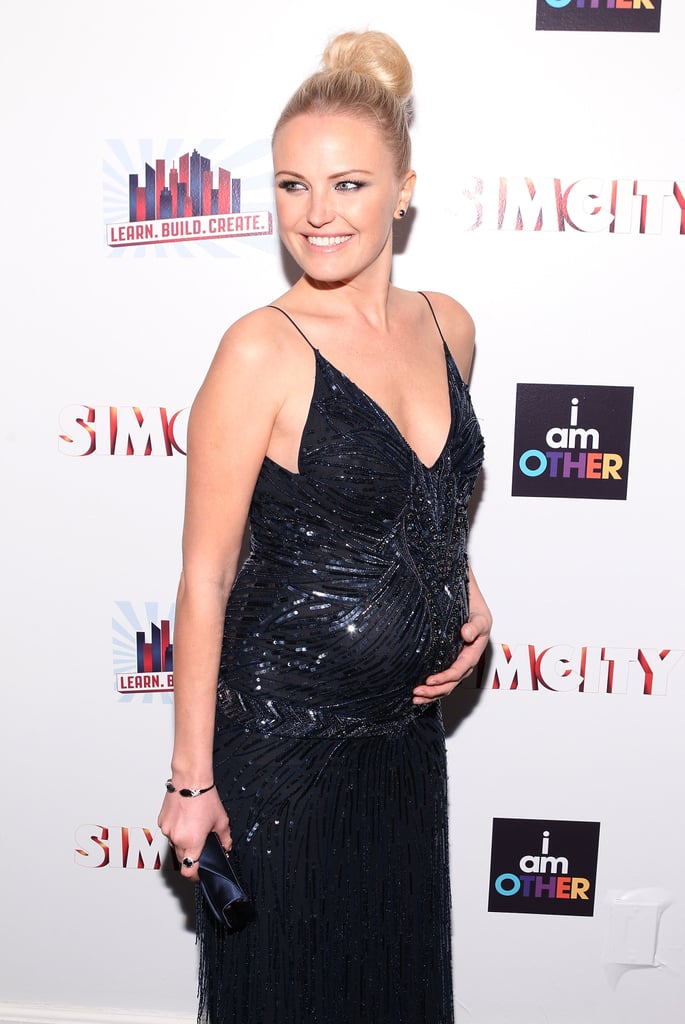 Malin showed off her baby bump in an alluring black beaded gown at the Learn.Build.Create Inaugural Celebration in Washington this week.
Baby in Blue
Malin attended the InStyle and Warner Bros. Golden Globes party in January wearing a curve-enhancing blue lace gown by Alberta Ferretti.
Bump on the Run
Printed leggings, a gray high-low tee, Fiorentini+Baker biker boots, a black Coach crossbody bag, and Ray-Ban Wayfarers proved that this mom-to-be hasn't lost her edge.
Cozy For Christmas
Malin stopped by a holiday charity event in LA in December wearing a black and silver sweater, leggings, and boots. Call it Christmas chic.
Suit, Gone Sexy
Malin stopped by the Hollywood Foreign Press Association and InStyle celebration of the 2013 Golden Globes in late November wearing a fashion-forward Barbara Bui sleeveless black leather jacket with skinny leather pants.
Wild Thing
Malin styled up a ruched Isabella Oliver tank dress and matching skinny jeans with a leopard scarf, brown boots, and classic Ray-Ban aviator sunglasses.
Art Apparel
For an art exhibit in LA in early November, Malin wore a chic topknot and a graphic black and white dress — no baby bump in sight.
Vegas Girl
Malin attended an event in Las Vegas wearing a sexy, partially see-through dress and some sky-high stilettos, a month after announcing her pregnancy.
Lady in Black
Just a few days after her pregnancy announcement, Malin showed off her still-trim physique in a black leather cocktail dress and some amazing shoes, courtesy of Christian Louboutin.