Marcus Samuelsson's Back-to-School Breakfast Recipe
Brain-Boosting Breakfast: Marcus Samuelsson's Power-Packed Morning Smoothie
Our mouthwatering Brain-Boosting Breakfast series continues with celebrity chefs and restaurateurs creating healthy, brain-boosting breakfast ideas to help keep kids going throughout the day. Today's quick breakfast for on-the-go families comes from Marcus Samuelsson, one of the most celebrated chefs in America, winner of the second season of Top Chef Masters, and owner of Harlem's acclaimed Red Rooster restaurant.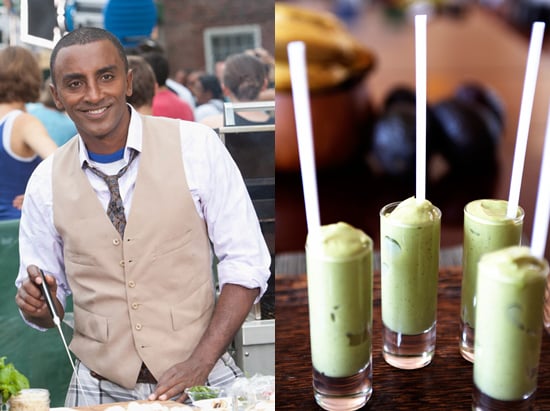 Marcus Samuelsson knows a few things about taste. Born in Ethiopia and raised in Sweden, he's mastered the art of mixing unusual flavors to create tastes that simply make mouths and stomachs happy. For his award-winning cookbook, New American Table ($27), Chef Samuelsson spent time working his way through local farms and kitchens across America to create new dishes for the entire family. A longtime supporter of charities that help give children a healthy start, such as UNICEF and the World Childhood Foundation, the chef is offering up an avocado-banana smoothie recipe to give kids a quick brain boost before heading off to school.
This is a great healthy breakfast option, as it's filling and nutritious; plus, kids dig the green color of the drink. It's inspired by the Indian drink lassi and is sure to be a family favorite.
Keep reading for Marcus Samuelsson's quick and easy Avocado-Banana Smoothie recipe.
Marcus Samuelsson's Avocado-Banana Smoothie Recipe
Ingredients
1 avocado, halved, pitted, and peeled
½ cup fresh orange juice, from 1 medium orange
2 bananas
¼ cup plain yogurt
2 teaspoons sugar
1 tablespoon freshly grated ginger
Juice of 1 lime
½ teaspoon salt
Directions
Combine the avocado, orange juice, bananas, yogurt, and sugar in a blender, and puree until smooth.
Add the ginger and blend until well combined, then mix in the lime juice and salt.
Divide the puree among four glasses, and serve immediately.
Information
Category

Other, Breakfast/Brunch
Source: Wiley