Marcus Samuelsson's Snack Recipe
Marcus Samuelsson's Strawberry Rice Milkshake Is a Tasty After-School Treat
Our tasty Snack Attack series continues with celebrity chefs sharing their favorite after-school snacks that won't spoil kids' dinner appetites. Marcus Samuelsson, NYC-based chef and owner of Red Rooster restaurant and the author of Yes, Chef, has provided us with a fun take on the classic milkshake, as well as a chance for kid cooks to win some big money.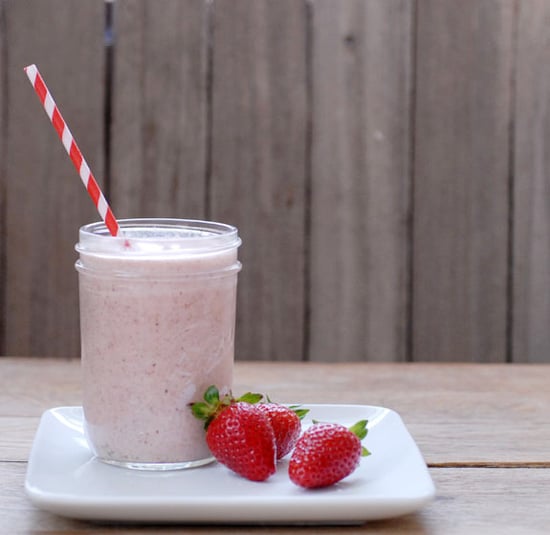 You don't typically think of a milkshake as a healthy afternoon snack. Traditionally filled with ice cream and sugar, it isn't typically top on most moms' snack lists. But Marcus Samuelsson is here to change your view. "My inspiration for this snack is a take on Mexican horchata, the traditional drink made with rice," he explains. "Here I use coconut milk as a dairy-free alternative, and it's a great way to use fresh berries of the season. Berries are best this time of year, so stock up on them while they are fairly inexpensive, and freeze them to use anytime of the year. Rice will fill up your hungry kids without ruining dinner. I believe it's so important for kids and parents to be cooking together, experimenting and learning to love healthy eating."
Keep reading for Marcus's healthy milkshake recipe and for details about the contest he's running for parents and their little kitchen helpers.
If you have an aspiring chef at home, or even just a great sous chef who helps you out during meal prep, Marcus Samuelsson is inviting you to enter the Uncle Ben's Ben's Beginners Cooking Contest! Submit a short video of you and your child cooking together for a chance to win $165,000 cash and prizes from Uncle Ben's. Visit Uncle Ben's for more information and to submit your video by Oct. 6.
Marcus Samuelsson's Strawberry Rice Milkshake
Marcus Samuelsson
Ingredients
1 cup Uncle Ben's Rice, cooked and chilled
1/2 pound strawberries, hulled and halved
1 teaspoon vanilla
1 cup coconut milk
1/2 cup ice
Directions
In a blender, puree Uncle Ben's rice, strawberries, vanilla, and coconut milk until smooth. Add more coconut milk or rice to reach desired consistency.
Serve immediately.
Information
Category

Snacks, Kids

Yield

2 milkshakes