Marcus Samuelsson iPad App
Marcus Samuelsson Brings Global Flavors to Tot-Friendly iPad App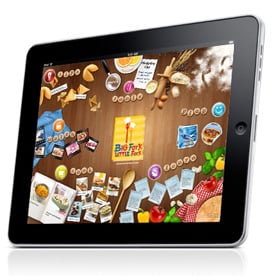 Toss your cookbooks and bring your iPad into the kitchen! The tablet of technology allows lil cooks to follow the masters any time they want. Kraft's Big Fork, Little Fork iPad app (free until Dec. 31) is a compilation of 300 recipes that include the food company's products. The app also has video demonstrations for basic cooking techniques, facts about herbs and spices, and tips for kids (including age appropriateness of a recipe and steps tots can contribute to the creation of a meal).
While the basic app serves as a resource, the premium addition ($5) of 50 recipes and 10 videos by Top Chef Masters champ and LilSugar Out of the Lunch Box contributor Marcus Samuelsson adds some global flavors to the menu. His recipes keep to a family-friendly model – rarely requiring more than five steps. Yesterday, I was invited to a demonstration where the chef prepared one of the recipes — a savory version of grits – and talked about how he incorporates fresh ingredients into packaged goods.
See the chef whip up the grits, when you
.