Marja Vongerichten Demonstrates The Kimchi Chronicles Gimbap
Brain-Boosting Breakfast: Marja Vongerichten's Gimbap Egg, Rice, and Kimchi Rolls
Our mouthwatering Brain-Boosting Breakfast series continues with celebrity chefs and restaurateurs creating healthy, brain-boosting breakfast ideas to help keep kids going throughout the day.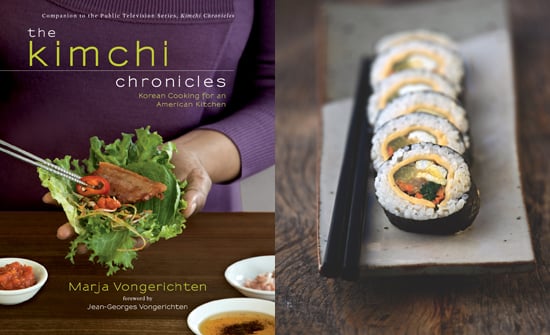 It's easy to get stuck in a routine when you're in a rush. The idea of introducing new flavors during the morning crunch time may sound daunting, but it's the perfect time to do so. Kids are alert and more willing to listen than at the end of the day when you're lucky to even get a grunt at the dinner table.
Earlier this Summer, Marja Vongerichten brought her husband Jean-George and actors Heather Graham and Hugh Jackman on a culinary and cultural tour of South Korea. Their travels were broadcast on PBS as The Kimchi Chronicles. Now, the tasty and exotic recipes from the series have been translated into lighter, more accessible recipes in the accompanying cookbook, The Kimchi Chronicles: Korean Cooking For an American Kitchen ($22) courtesy of the Vongerichtens.
Marja, Jean George, and their 11-year-old daughter, Chloe, are demonstrating a recipe for Gimbap — rolls of rice and other fillings wrapped in seaweed and cut into bite-size pieces. According to Marja, it's the perfect way to eat up leftovers, all of which can be included in the roll. It's also packed with iron, calcium, and natural minerals. Watch how the family whips up the school-morning breakfast.
Keep reading to for Marja Vongerichten's recipe.
Gimbap (Rice and Fillings Wrapped with Seaweed)
Reprinted from: The Kimchi Chronicles © 2011 by Marja Vongerichten. Permission granted by Rodale, Inc. Available wherever books are sold.
Ingredients
4 sheets toasted gim or nori seaweed
2 cups warm cooked shortgrain white rice
1⁄2 teaspoon coarse salt
1⁄2 teaspoon sugar
4 teaspoons rice vinegar
1 thin egg omelet
sliced into ribbons
1⁄2 cup sauteed spinach
1 large carrot, cut into matchsticks
A few strips pickled daikon
4 slices American cheese
4 slices deli ham
Directions
Lay one piece of seaweed on a sushi rolling mat or on a large piece of plastic wrap. Mix the rice with the salt, sugar, and vinegar and spread one-quarter of it in a thin layer over the entire piece of seaweed. Arrange one-quarter of the egg, spinach, carrot, and
pickled daikon, and 1 slice each of American cheese and ham evenly over the rice.

Use the mat to help you roll the gimbap into a tight cylinder.

Repeat the process with the remaining ingredients to make 3 more rolls. Use a sharp knife to slice the rolls in sushi like pieces,
dipping the blade in water before each cut.
Information
Category

Eggs, Breakfast/Brunch