Martha Stewart's Breakfast Recipes For Kids
Brain-Boosting Breakfast: Martha Stewart Shares Two Back-to-School Recipes
Breakfast may be the most important meal of the day, but it's often the most overlooked as busy families grab and go on their way out the door. While back-to-school tends to focus on lunch-box ingredients, we're rolling the clock back to the breakfast hour. We've gathered up a panel of top-notch chefs to provide us with their healthy, brain-boosting breakfast ideas to help keep kids going throughout the day. First up is the queen of the kitchen, Martha Stewart.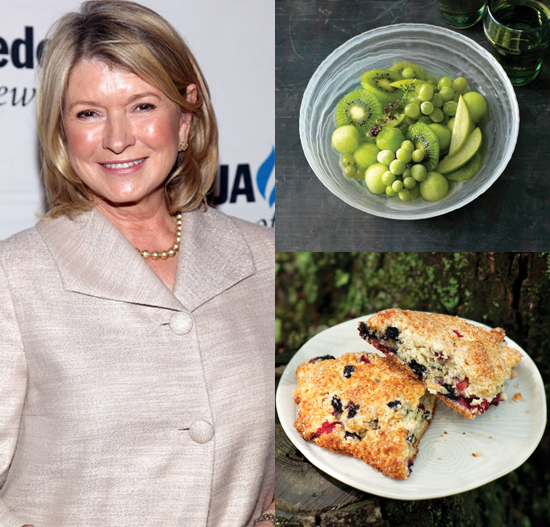 Eggs and pancakes are typically associated with kids and families, but they can take a large chunk of time out of the precious hour moms have to whip up breakfast, pack lunch, and sign permission forms in the morning. Martha Stewart looks beyond the usual suspects and provides us with two recipes that — with some prep work the night before — are quick additions to the morning routine. Best of all, when served together, they create a healthy breakfast that will keep kids full through their morning classes.
Keep reading for Martha Stewart's recipes for Mountain Berry Scones and a Green Fruit Bowl.
Ingredients
1½ cups all-purpose flour, plus more for surface
½ cup cake flour (not self-rising)
3 tablespoons granulated sugar
1 tablespoon baking powder
Salt
6 tablespoons cold unsalted
butter, cut into pieces
¾ cup blueberries
¾ cup mountain cranberries or regular cranberries
1 teaspoon finely grated
lemon zest
1/3 cup heavy cream, plus more for brushing
2 large eggs
Fine sanding sugar, for sprinkling
Directions
Preheat oven to 400°. Whisk together flours, granulated sugar, baking powder, and ¾ teaspoon salt. Cut in butter with a pastry cutter or rub in with your fingers. (The largest pieces should be the size of small peas.) Stir in berries and lemon zest.

Whisk together cream and eggs. Make a well in the center of flour mixture, and pour in cream mixture. Gently stir with a fork until dough just comes together. Turn out dough onto a lightly floured surface, and knead a few times to combine (dough will be slightly sticky).

Pat dough into a 6-inch square (about 1 ¼-inches thick). Cut into six 2-by-3-inch rectangles using a floured knife. (Alternatively, to make 12 scones, cut each rectangle in half on the diagonal to form triangles.) Transfer to a parchment-lined baking sheet. Brush tops of scones with cream, and sprinkle with sanding sugar.
Information
Category

Breads, Breakfast/Brunch
Ingredients
12 ounces green grapes
2 cups water
1 cup sugar
1 cup lemon thyme or regular thyme sprigs, coarsely chopped
1 green apple
3 kiwifruits, peeled and sliced
4 to 5 cups honeydew melon balls (from 2 melons)
Directions
Freeze grapes on a rimmed baking sheet for 1 hour.

Meanwhile, make the syrup: Bring water and sugar to a simmer in a medium saucepan,
stirring until sugar dissolves. Remove from heat, and add lemon thyme. Let stand, covered,
until cooled completely. Strain syrup through a fine sieve; discard solids.

Thinly slice apple. Divide apple, kiwifruits, melon, and grapes among 8 bowls. Pour syrup
over tops just before serving.
Information
Category

Breakfast/Brunch