Master Kitz Art Projects For Kids
Encourage Budding Van Goghs and Monets With Master Kitz
How many times has your lil one presented you with an art project, only for you to turn to her and say, "It's beautiful . . . what is it?" We don't mean to question kids' artistic skills, but we would like to be able to identify what it is they are presenting to us.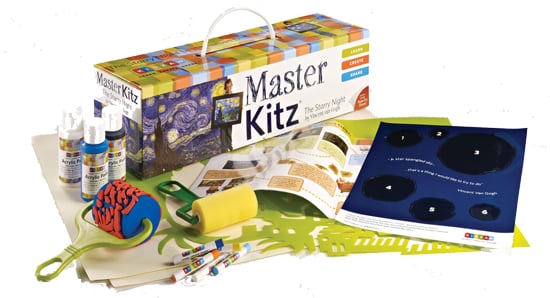 While parents can't expect their tots to present them with museum-quality work, we can now encourage them to create their own masterpieces based on the works of Van Gogh, Klimt, or Monet with Master Kitz. Michelle Talbot, a mom of two boys and a former advertising exec, has combined real artists' tools and preschool art tricks to create a collection of kits that inspire kids to create their own interpretation of some of the art world's greatest masterpieces.
Available for four artists, each kit contains different tools to educate children about a variety of art techniques and help kids experience them. So for lil artists who are taken with Van Gogh's Starry Night ($30), the kit includes a landscape stencil, non-toxic paints and pastels, and a specially designed roller that helps replicate the artists' famous active stroke. When kids combine the tools, the result is a layered painting that looks strikingly like the famous version. Next stop, the Metropolitan Museum of Art!