Matthew McConaughey Talks About Camila Alves and Their Kids on Rachael Ray
Matthew McConaughey Talks Family With Rachael Ray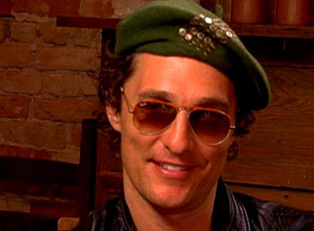 Free spirit and father of two, Matthew McConaughey was on The Rachael Ray Show this morning. The talk show host met up with the actor who is dabbling in the music industry last month at The SXSW Music and Film Festival in Austin. Looking very bohemian, the daddy talked about the differences of having one and then two children. He said:

Well, baby girl is a lot better sleeper than a 20-month old son! Vida is much more deliberate. She knows like exactly what she wants. Or If she don't want to eat or sleep, she's cool and if she's crying it's one of those three.
Matthew admitted to changing diapers, but not that many. When Rachael mentioned his longtime girlfriend Camila Alves was upset that she wasn't able to go to the musical festival, Matthew (who seemed to be enjoying himself) said, "Camila you're going to be just fine, sweetie. You're the champion!" Does it bother you when your partner goes away and you are left caring for the kids?