Means Girls in Elementary School
Experts Say Hannah Montana and Friends Make Girls Mean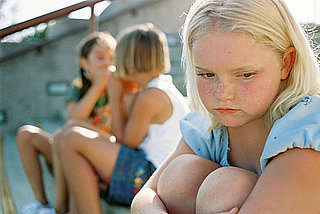 Kids today, as the lament goes. The age of the mean girl is getting younger, an article in The New York Times reports. The dreaded middle school cliques are extending down to the kindergarten crew. The article examines the nasty things bullied girls have dealt with in elementary school, from the creation of exclusive clubs to being forced to go down a slide filled with mud.
The supposed increase of mean little girls could be the result of various factors from parents being more aware of their child's emotions to early-onset puberty, but many experts agree that outside media influence is a major factor. So what makes a mean girl? Find out when you
.
According to the report, girls who look up to more "socially aggressive" pop culture figures, like Hannah Montana, tend to bully the girls who don't act like the It girl. And while being trendy has always played a factor in schoolyard teasing, today's culture of celebrating materialism and looks has led to increased pressure for girls to be decked out in all the right brands and to dress older than their age. Mothers of the mean girls don't seem to think it's a problem, and instead believe that their daughters' perceived popularity is a good thing.