Medicine Dosing Charts for Children
Dosing Card Takes the Guesswork Out of Fighting Fevers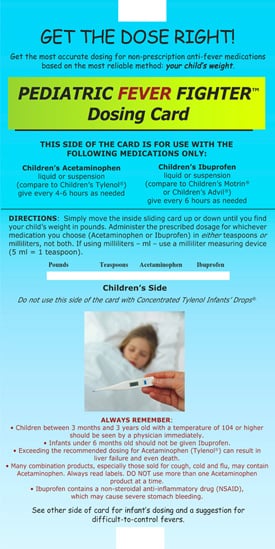 Just a spoonful of sugar helps the medicine go down, but do you know how big that spoonful actually is? According to a study in the Annals of Internal Medicine, using a kitchen spoon to dose out medicine routinely results in over- and under-dosing elixirs. Researchers involved in the study found a direct correlation between the size of the spoon and the dosage that was poured.
One way to ensure that your sick one receives the right amount of medicine is with the Pediatric Fever Fighter Dosing Card ($4). The two-sided card with a sliding sleeve helps parents determine how much acetaminophen or ibuprofen to give an infant or child based on their weight. Created by an Emergency Medicine physician at The Children's Hospital of Philadelphia, the card takes the guesswork out of dosing. The card also provides information about when to call your child's doctor and tips for reducing a fever faster.
Share your favorite products, toys, and trends with other parents! Start sharing your opinion on millions of must haves for your tots in our Product Reviews group!