Menorah Craft Project
Hanukkah 101: Create Your Own Menorah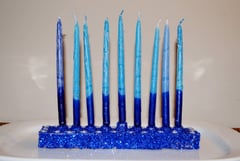 Get a little crafty this Hanukkah with a homemade menorah of your own. Using just a few household items and an hour or two of your time, it is easy to bypass the child-oriented menorahs in the stores for one that shows your tot's real creativity.
Based on one created by Martha Stewart, this menorah is easy enough for a toddler to help with, and pretty enough to be put on display with yours throughout the holiday. Just remember to always place a menorah on a ceramic plate or a piece of tin foil to help prevent fires.
To see what you need to create your own menorah, as well as step-by-step directions,
.
Supplies you will need:
A piece of wood, approximately 8 by 2 by 3/4 inches
10 1/4 inch nuts
Wood glue
Clear drying glue
Glitter
Hanukkah candles