Milk Truck to Help Breastfeeding Mothers
Never Fear. The Milk Truck Is Here.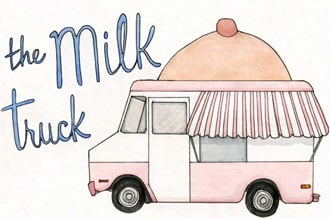 Despite all we know about the benefits of breastfeeding, nursing mothers are still harassed for daring to breastfeed their babies in public. One woman, Carnegie Mellon University teacher and artist Jill Miller, wants to do something about it. If she reaches her goal of raising $10,000 by July 27, Miller intends to create The Milk Truck, an old ice cream truck adorned with a giant breast that will swoop to the aid of breastfeeding mamas who are being harassed. A Batmobile for boobies, the truck will provide a comfortable place for mothers to feed their babies, with the added bonus of shaming anti-breastfeeding perpetrators.
The idea of a giant boob cruising around town is an interesting one, but will it really achieve its intended mission? When your baby needs to eat, he needs to eat, and unless the giant breast on top is actually a teleporting device, most hungry babies won't be able to wait around while the milk truck navigates rush hour traffic. As an art project/guerilla theater/pro-breastfeeding statement, it sounds great, but do you think it will work to aid harassed breastfeeders? Would you call the milk truck?
Photo courtesy of The Milk Truck