Mind in the Making Book Review
The Seven Keys to a Child's Success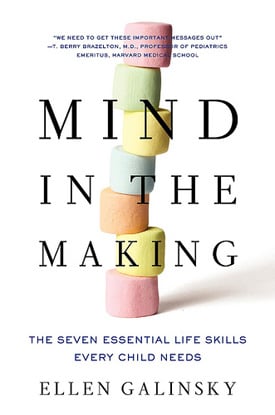 Could there really only be seven life skills children need to become successful? From the day our lil ones are born, we are overwhelmed with advice from grandparents, friends, doctors, and the media. Oftentimes, the suggestions come with a list of products you need to buy to properly execute the program.
In her just released book, Mind in the Making: The Seven Essential Life Skills Every Child Needs ($10), Ellen Galinsky has not only identified the skills she believes are necessary for future success, but she outlines every day simple (and free!) things parents can do to develop the skills in their tots. According to Galinsky, we should teach our kids:
Focus and Self Control – children need this skill in order to achieve their goals especially in a world that is filled with distractions and information overload.
Perspective Taking – children who can figure out what others feel and think are less likely to get involved in conflicts.
Communicating – children need to be able to determine what they want to communicate and how. This is the skill teachers and employers feel is most lacking today.
Making Connections – children who can make unusual connections are more creative and can go beyond knowing information to using information well.
Critical Thinking – children need to be able to search for reliable knowledge to guide their beliefs, decisions, and actions.
Taking on Challenges – children who can take on challenges instead of avoiding or simply coping with them will do better in school and in life.
Self-Directed Engaged Learning – lifelong learners can change as the world changes in order to reach their full potential.
Galinsky argues that we must actively teach our offspring these skills, rather than rely on experience and society to do so. She suggests playing a simple game of Simon Says, but changing the rules so children have to do the opposite of what is asked to foster self control. Watching TV with your kids and then discussing the truths hidden in the ads will help build critical thinking skills.
Do you actively work with your kids to build life skills?