Mini Me: Anthony Kiedis and Everly Bear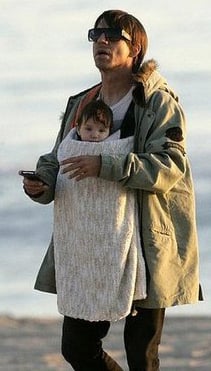 0
Mini Me: Anthony Kiedis and Everly Bear
Red Hot Chili Pepper frontman Anthony Kiedis and his lil babe, Everly Bear went for a sunset stroll on the beach in Malibu recently. And, being that the songwriter said that surfing makes him a better father, it seems the water's edge is a place of peace.
Bundled up in a baby carrier and blanket, the younger Kiedis looked like his father's reflection with soulful eyes, a sweet expression and shaggy hair.
In an interview, the musical genius that long battled drug addiction said:
"It's easy to be a junkie," Kiedis said in the March, 2007, issue of Blender. "It's not easy to be one of the greatest guitar players of all time, or one of the greatest writers."
From these pics, it looks like Anthony's past is under the bridge and now he's concerned with being one of the greatest dads.