Mom Makes Kid Do His Own Science Project
This Mom Made Her Son Do His Own Damn Science Project — Can We Shake Her Hand?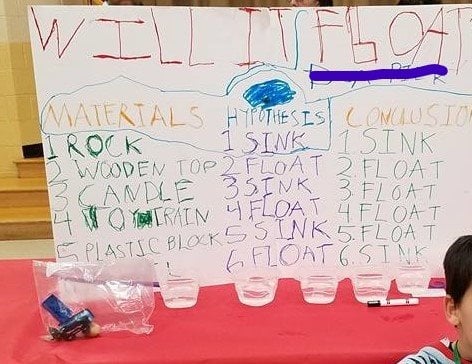 Gail faced a fear that many moms are scared of tackling head-on: letting her 5-year-old son do his science fair poster board all by himself. And according to a recent post on her Facebook page Maybe I'll Shower Today, it was about damn time her son flexed his creative muscle without her input, and what better time to test the waters than a voluntary after-school science fair? She explained exactly why she let him take the reins on the assignment.
"When it was time to put together the presentation board, I stepped back and let my son do a good portion of the work," she wrote. "I did write some of the words, but honestly, my handwriting is pretty much at a kindergarten level, so nobody would notice."
We're right there with her. How many times have you done the heavy lifting on a school project for your kiddo solely because you want it to look OK? Yeah, that's what we thought. Despite sticking to her guns and letting him do the bulk of the work, Gail still got oddly jittery in the days leading up to the science fair.
"There was no doubt the board was created by a five-year-old, and I was proud of my son for doing so much on his own," she said. "Yet, as the science fair night drew near, I found myself getting more and more anxious. I would look at his board, and then picture some of the other presentations, and wonder, is this good enough? I had visions of complicated robotics and elaborate models, with smiling parents looking on at their little wunderkinds."
Where did all that anxiety come from? From comparing herself to all the other imaginary parents who would no doubt be in the room, of course. "A part of me wanted to scrap the whole thing, to find another project, or not even go at all. I was so worried about being judged, about my son not being good enough — about me not being good enough — that I was ready to call it quits."
It's a good thing she didn't. Samantha explained that although there were tons of kids, poster board, and parents packed into the school hallways, all the students were excited. And to her surprise, there weren't too many NASA-worthy creations. "We found a spot to set up near a few of my son's classmates. They were all excited and enjoyed checking out one another's projects. While, some of them were admittedly, a bit more sophisticated, none were over the top and all were age appropriate. No master robotics here."
After taking a deep breath and realizing that it really didn't matter what other parents thought, something amazing happened: "I realized right then how wrong I was for doubting my son and for doubting myself. When I stopped worrying about what others thought, I was able to see my son. I was able to see his wonderful intelligence and curiosity. I was able to see how I helped shape him."
The real kicker? Her kiddo came in fourth place overall. Oh, and added bonus: children learn a whole lot more when they're actually the ones doing the work. So how's that for science?