Mom Sells Unborn Baby's Naming Rights on eBay
Mom Sells Unborn Baby's Naming Rights on eBay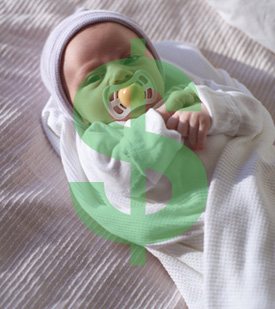 Can't decide what to call your impending babe? Put its naming rights up for auction on eBay! That's what an unemployed Arkansas mother of six is doing for her seventh baby.
With her husband in the Navy and stationed hundreds of miles away, and her financial troubles growing, Lavonne Drummond placed the ad on Sunday to raise money to "pay for a new car (one that can fit my BIG family) some baby cloths, and maybe if some one is generious [sic] enough a new house. but we are despritly [sic] in need of a new car."
The winning bidder will pick the legal first name for her son and meet him after he is born on Sept. 16. With just three days left in the auction, Drummond is a long way from the $25,000 she hopes to raise, but a flood of traffic on the site has raised the current bid to $2,550.