It's hard to be active when you're a busy mom, and that's ok. Trying and getting your start is all that matters, and we support that effort. That's why we partnered with Kohl's for this post that will help you sneak in a workout.
It's too bad that all the running around parents do to get kids to and from school, extracurricular activities, friends' houses, and home doesn't count as actual, you know, running. Exercise quickly falls to the bottom of the to-do list when you're a busy mom, but I've found a place where workout gear is celebrated and movement is encouraged: at sports practice. Whether your kid is into soccer or hockey or swimming or some other physical challenge, sports practice always comes with a go-for-it attitude and open spaces for parent observers. I used to spend time on my phone, catching up on emails as I looked up to catch my daughter's practice every so often, but these hour-long time blocks can be put to better use. Here are a few tips for staying fit while your kid learns the rules of the game:
Keep it simple.
Just strolling or power walking around the practice area can help you get to that 10,000-steps mark. Bonus: it's an even better way to watch your child's progress — you'll get a 360 view of the play. You can also invite another parent you'd like to get to know to stroll with you. Win-win.
Dress to move.
Your kids have their gear on, so why shouldn't you? After a shopping trip to Kohl's, don your new Under Armour Tech Tank with the Women's Tech 1/2 Zip over the HeatGear Capris. Sporty clothes signal to your body that you're ready to exercise, and finding new stylish options will make you more motivated to follow through.

Bring a mat, or find some grass.
Any soft, open spot on the ground can work as a gym if you make a habit of doing pushups, abdominal crunches, or even yoga poses and stretches on the sidelines.
Use those bleachers.
In a stadium setting, running up and down a set of stairs is a Rocky-level workout. But even a smaller set of seats is perfect for small moves like tricep dips and step-ups. Don't underestimate the muscle-building power of three sets of 10.
Really go for it.
You've got the space, so why not try the Kohl's + Under Armour Bear Crawl Challenge. It's a great workout and is guaranteed to get other parents and maybe even other kids to join in on the fun.

Take the first step.
You may not be comfortable doing burpees on the sidelines the first time you do an at-practice workout, and that's OK. You have to get your start. Just getting dressed in gear that would allow you to exercise is a good step. Then doing some stretches on the bleachers will get you in the mood. Soon you'll be sprinting up and down the sidelines and doing the bear crawl, and you'll get a better workout than the kids. Other parents may join in too — don't be surprised if you end up spreading a healthy habit.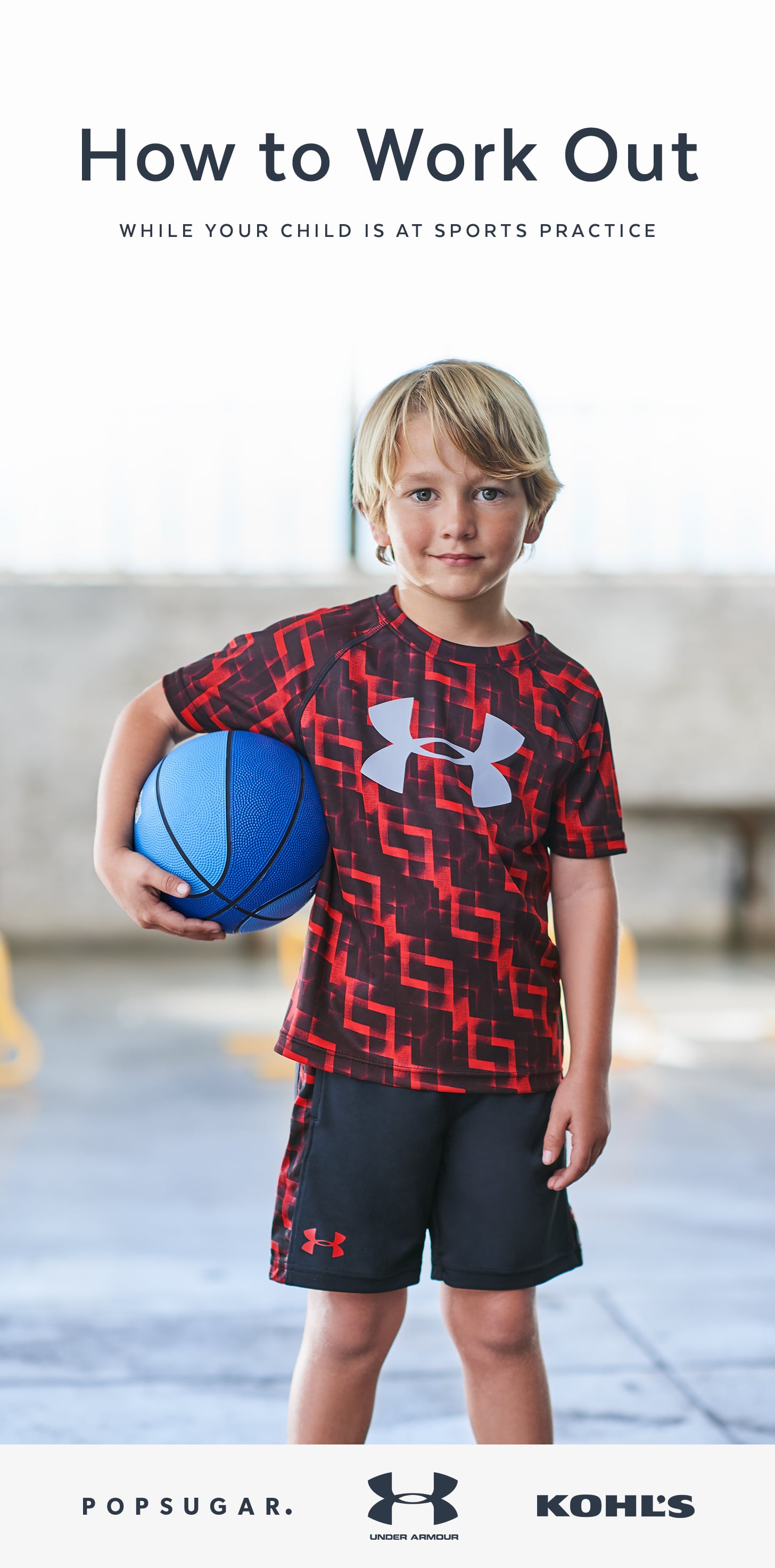 Join the Kohl's + Under Armour Bear Crawl Challenge!
To enter the challenge do the Under Armour Bear Crawl, take a pic or video, and tag #BearCrawlChallengeSweepstakes & @Kohls to be entered to win a grand prize of $1,000 in Kohl's Gift Cards or one of ten $100 Kohl's Gift Cards now through 3/31.



NO PURCHASE NECESSARY. Sweepstakes open to legal residents of the 50 U.S. & D.C., 18 or older. Ends 11:59 pm CT on 3/31/17. See Official Rules for full details including eligibility, prize descriptions & limitations. Void where prohibited.
Image Source: Kohl's