Mom Workouts
5 Ways Moms Can Fit in Fitness
Finding time away from the kids to exercise can sometimes feel more daunting than the actual workout. With that crazy, superhuman schedule of yours, your fitness routine doesn't have to fall to the wayside. Check out our suggestions for squeezing in a workout and burning a few extra calories without hitting the gym. There's no reason your workout (aka "me time") has to be cut from your "to-do" list again.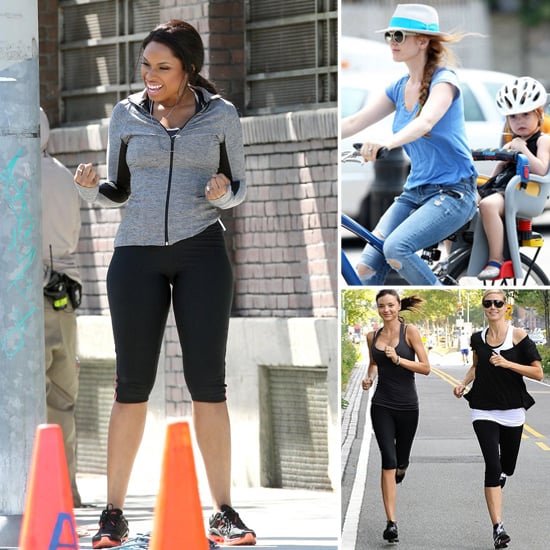 At sports practices: School is starting back up and so do afterschool sports. While your little players are breaking a sweat, you can too. Instead of hovering in the stands or running errands, take that hour to yourself. Go for a run around the field's perimeter or take a walk through the neighborhood. Let's get real: an hour isn't enough time to accomplish many errands, but it is enough time to get up and get going!
Between errands: The next time you're on carpool duty or running to the store (no pun intended), take note of local gyms, studios, and parks on your usual path. Choosing a convenient option that easily fits into your routine will make your workout feel seamless. A quick run or workout in the park won't waste any extra travel time.
During vacation: We know your vacations probably aren't spent leisurely lying on the beach. Take advantage of time off with your kids by planning active activities the whole family will enjoy. Wherever you are, explore hiking trails or spend the day playing in the pool together. Kids will love the adventure, and you will be happy to sweat without any scheduling or extra effort.
During downtime: Use those rare moments of peace and tranquility for a cardio burst. While your kids are napping, pop in a workout DVD or cue up a 10-minute Class FitSugar video. Or during TV time, fit in a quick total body workout that can be done right beside the couch!
Exercise with the kids: Spend time with your tykes by working out together. Go on walks together or, if you have littler ones, invest in a jogging stroller like this Phil & Teds Dot Buggy ($450). If your children are a bit older, take the bikes out and explore your town. You'll find their energy makes them the best workout partners a mom could ask for.