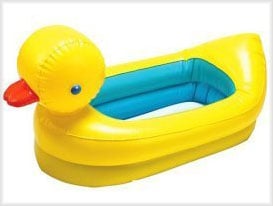 Since I didn't know which bathtub was best for my baby, I was delighted when I received this Munchkin ($10) one at my baby shower.
Compared to the hard, plastic tubs which got slippery, the soft inflatable sides of the Munchkin allowed my daughter to sit up on her own during her bath.
It's convenient because you simply fill up this tub inside your own. And, it has a heat sensitive disc that turns white and reads, "hot" if the water could scold your lil one's buns. In addition to being a smart duck, the Munchkin is chatty — quacking whenever his bill is squeezed. This makes bath time loads of fun for lucky munchkins.