Mommy Wellness: Tipped Uterus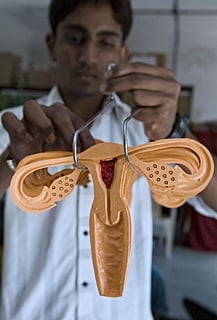 Early pregnancy can bring on surprises and one of those is a tipped uterus. The pear shaped organ that normally sits upright maybe tilted toward the back of the pelvis for various reasons. According to American Pregnancy Association:

As a woman matures the uterus may not move into a forward position.
Childbirth can tip the uterus forward or backward. If the ligaments holding the uterus in place stretch, or lose their tension during pregnancy, the uterus can become tipped. In most cases, the uterus returns to a forward position after childbirth
Scarring from adhesions as a result of endometriosis or fibroids can also cause the uterus to shift to a tilted or retroflexed state. Sometimes a uterine suspension is used in conjunction with treatments for endometriosis to prevent the formation of adhesions after surgery.
By the 10th to 12th week of pregnancy, the uterus normally moves into the proper position.
Source