Moms Should Be Careful Using Cellphones
What Is Your Worst Mommy Cell Phone Moment?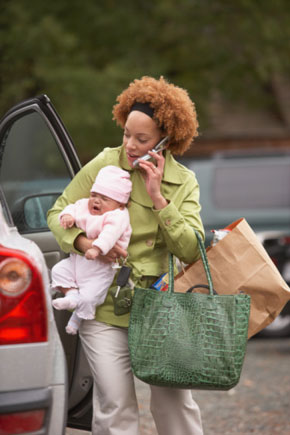 Cell phones can be mommy's best friend and her worst enemy. They can entertain wee ones beyond their wildest imaginations in addition to teaching them the alphabet, shapes and math facts. While they may be excellent distractions for meddlesome miniatures, they can be more menacing for the mature mama.
For starters, no teacher wants to see a mother chatting up with her chums during carpool. Even worse is a parent getting lost in a conversation while driving a truck full of tots around town. Many moms take advantage of pool time to mosey off to chatter land lending a not-so-watchful eye. And just the other day, I witnessed a 3-year-old wiggling her way through a fourth floor balcony. My husband sent security up to check on her and they reported back that the mother was in fact present but on her cell phone. What's the worst cell phone offense you've committed in regards to your child's safety?
Dish about your mommy confessions in The Mommy Club in our LilSugar Community!