Monkey See, Monkey Do, What Does Your Baby Do?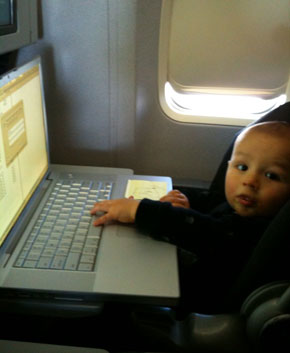 They say imitation is the greatest form of flattery, but I'm not so sure in this case. At the ripe old age of 1, there is no other toy or gadget that captures my son's attention quite as well as my laptop. My 3-year-old daughter's Vtech can carry on the masquerade for a bit but he knows that the shiny silver machine with a bitten apple on it is the real deal. He will climb over barriers and shriek at the top of his tiny lungs until he can punch his wee fingers on the delectable keys.
Perhaps I have the next Bill Gates crawling around my house, or maybe it's a sign I need to step away from the computer for a bit. How does your child mirror your actions?