The Most Popular Baby Names of 2013
Here's a post from our partners at BabyCenter! Every week, we bring you the best parenting and lifestyle stories from the experts at BabyCenter, including this post about the top baby names of the year.
Look out, Aiden – there's a new kid in town! BabyCenter released its annual ranking of the Top 100 Baby Names of 2013, revealing that parents found new trends and interesting influences when it came time to pick that perfect name. The highly anticipated list also unveils a new name in the top spot – at least where baby boys are concerned. Related: One family's decision to skip Santa There are some familiar faces on this year's list, with perennial favorites such as Emma, Sophia and Liam maintaining their place in moms and dads' hearts. But there are a couple of newcomers to be found, and some rising stars, as well. Did your kids' names make their way to the top 10 this year? Take a look to find out…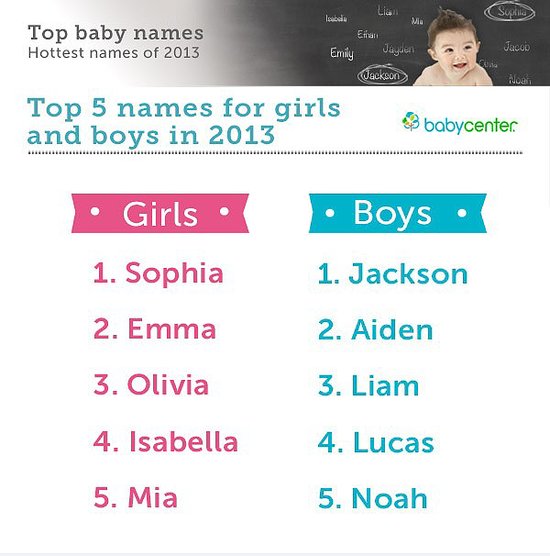 After an impressive eight years in the top spot, Aiden was finally bumped to #2 in 2013, with Jackson taking its place. Keeping with the boys' ranking, we see that Liam continued its slowly and steady rise, settling in at #3. The fastest riser? Little Lucas, which jumped from #7 up to #4. The usual suspects round out the top 10 for boys, with Mason, Jayden, Ethan, Jacob, and Jack all holding strong. As for girls, yes, Sophia managed to hold on to #1 for the fourth year in a row. Emma, Olivia, and Isabella all stayed steady this year as well. But it's the #5 pick that made the biggest leap: After barely squeezing into the top 10 last year, Mia rose all the way to #5 in 2013. While popular picks Ava, Lily, Zoe, and Chloe can all be found near the top of the pack, there is one newcomer to the list as Emily bumped Madison this year, landing at #9. Keep reading for more about the Top 100 names and the biggest baby naming trends. So what does the Top 100 tell us about how we name our babies? While more than half of moms told BabyCenter that they looked to people they knew for inspiration, it seems that we also still draw from popular culture. Last year it was all about 50 Shades of Grey and One Direction as names like Niall, Zayn and Anastasia shot up the ranking, but 2013 saw the rise of Breaking Bad babies. Walter isn't exactly a hot commodity, languishing at #520 overall, but Mike and Marie, both characters from the incredibly popular show did enjoy a surge. And who could forget George? His Royal Highness, that is. Kate Middleton's chic pregnancy inspired maternity style and it seems her son's baby name is in fashion as well. The classic pick rose 10 percent for boys and, interestingly, a whopping 37 percent for girls!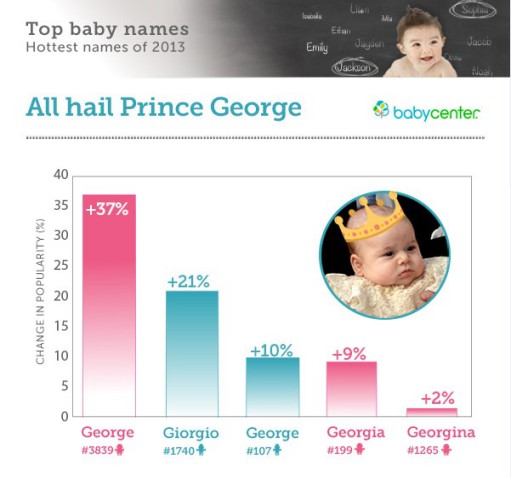 Of course, any discussion of the year that is just about behind us must (unfortunately?) include talk of Twerking. While Miley Cyrus has made headlines for some pretty questionable reasons lately, that hasn't scared parents off of the name: Miley leapt 16 spots on the ranking. Be sure to check out the Top 100 list – where do your kids' names rank? More great reads from BabyCenter 5 graceful ways to handle Santa spoilers The First Lady opens up on teens and dating 8 ways to add swagger to your stroller Mall Santas share hilarious and heartbreaking tales