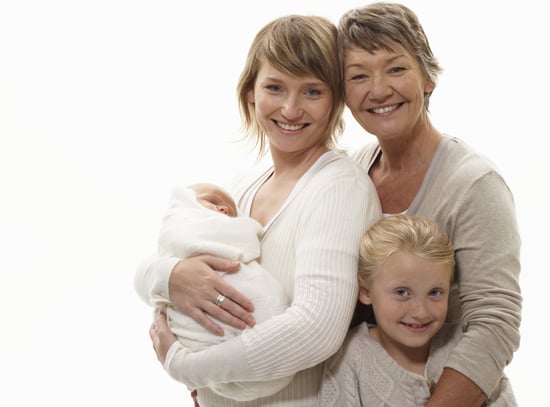 Mother's Day is double the fun when you're a mom yourself. Not only do you get a day that celebrates you, but you have a whole new appreciation for your own mom, who definitely deserves some special attention. If you're both looking for ways to celebrate each other, consider the following 10 tips — five are just for you, and five are for her.
For You: She can offer perspective. When you're in the thick of sleepless nights, endless teething, and toddler temper tantrums, motherhood can seem overwhelming. But your mom survived it, and she can tell you how quickly "this too shall pass" and remind you to appreciate the fleeting moments.
For Her: You can allow her to revisit the early days of being a mom . . . without all the stress. Changing diapers, making bottles, and soothing baby breakdowns can actually be fun when you're grandma (or at least that's what our moms tell us), so let her step in and take a trip down memory lane.
For You: She can provide worry-free (and free!) babysitting. Grandparents are second only to you when it comes to caring about your kids. Take advantage of her desire to spend time with your lil ones and take a break!
For Her: You can give her your time. Offer to help her with a project in which you have expertise. Help her figure out that iPad or fancy camera, weed her garden, or just (finally) clean out your childhood closet.

Click here for six more Mother's Day gifts you and your mom can give each other.

For You: She can let you take a vacation to reconnect with your partner. Someone once told me that a vacation with kids is actually a trip, and I have to agree. Schedule a long weekend away solo and drop the lil ones off at grandma's. They'll all have fun, and you'll come home refreshed.
For Her: You can give her a gift from your lil ones. Have your child make grandma a special piece of art, frame a photo of grandma and the grandkids, or make a video or recording of your kids just for her. Believe us, she'll love it.
For You: She can teach you the kind of mom you want to be. Whether you had the best mom in the world or one with a few faults, she inevitably taught you about the kind of mother you want to be to your kids. Appreciate that gift.
For Her: You can tell her what you love most about her. Tell her the things she did right that you're trying to replicate. Verbal affirmations work well, but writing her a letter is even better.
For You: She can put you first . . . even when you have a newborn. After labor and delivery, everyone's focus is on the baby, except for your mom, who's also interested in your recovery. Let her take care of you, even as you're learning to put your own needs aside to take care of your new babe.
For Her: Buy her something she wouldn't buy herself. Whether it's those $100 Lululemon workout pants, a luxe jar of face cream, or her favorite bottle of expensive wine, treat your mom to something she'd find extravagant, but totally deserves.