Movies With Miya: Monsters vs. Aliens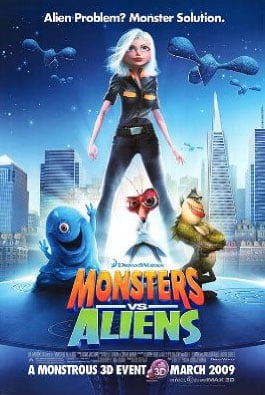 Dreamworks is releasing their first 3D movie, Monsters vs Aliens, today. Filled with celeb voices from Reese Witherspoon (Susan Murphy / Ginormica) to Seth Rogen (B.O.B.) to Hugh Laurie (Dr. Cockroach Ph.D.), the family film is rated PG and full of appropriate humor that keeps both parents and their kids laughing. The fantastic animation enthralls the audience as 50-foot-tall Ginormica and her monster friends — a blob, a mad scientist cockroach, a fish-ape and an insectosaurus keep the evil aliens from invading earth. Although some scenes skew a bit older than the preschool set, we sat down with one of our favorite lil movie reviewers, Miya, to get her take on the film,
.
Q: What was your favorite part of the movie?
A: When Blob tries to fight the robot and gets squished by his giant foot. And wearing the cool glasses.
Q: What didn't you like about the movie?
A: When the evil alien Gallaxhar comes to Earth.
Q: Did any parts scare you?
A: When the monsters and aliens fought in the battleship.
Q: Would you tell your friends to watch it?
A: I think some of my friends (ages 4 and 5) might be sort of scared, but my older friends would like it.

Movie buff Miya, 4, has been watching films since she was old enough to follow the images in the Baby Einstein videos. Her favorite flick is the adored blockbuster, The Little Mermaid. This cute critic hopes to grace the silver screen some day!