NYC's New Teen Pregnancy Campaign
The Anti-Teen-Pregnancy Campaign That's Causing an Uproar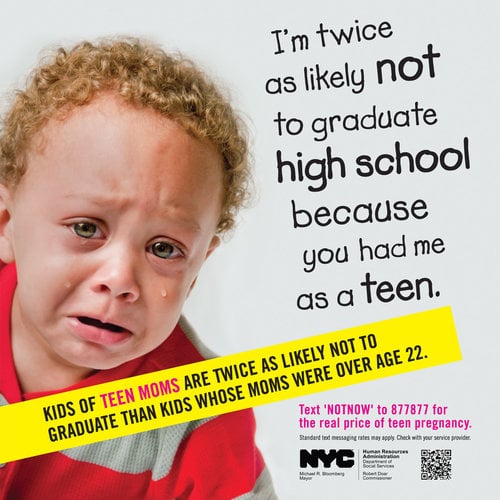 A new public education campaign to decrease the number of teen pregnancies in New York City is causing an uproar from both teen moms and Planned Parenthood. The campaign, which focuses on the challenges faced by teen mothers and their children, includes a poster that reads, "I'm twice as likely not to graduate high school because you had me as a teen." Another says, "Honestly Mom . . . chances are he won't stay with you. What happens to me?"
Haydee Morales, vice president for education and training at Planned Parenthood of New York City, told The New York Times, "Hurting and shaming communities is not what's going to bring teen pregnancy rates down." Others are criticizing the campaign for showing the negatives of teen pregnancy without providing alternatives and helpful resources.
Would you like your kids to be exposed to this campaign?