Natalie Morales Cure For Diaper Rash
Natalie Morales's Mommy Must Have: Good Running Shoes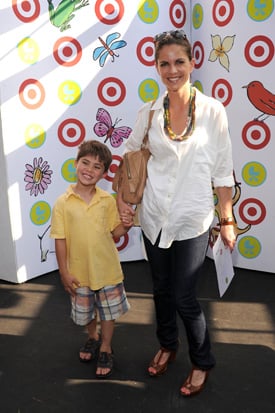 Natalie Morales navigates motherhood with a pair of broken in sneakers! We chatted with the NBC Today Show host at Baby Buggy's Bedtime Bash last week where she was enjoying amusement park rides with her sons Josh, 6, and Luke, 1. To keep up with her boys, the triathlete recommends, "a good pair of running shoes to chase after them!" We were also curious if she draws on any personal experience in her recurring role on Marriage Ref.
BabySugar: How do you handle differences in parenting styles with your husband?
Natalie Morales: We make a pretty good tag team. We trade off quite a bit, although both of them (the boys) seem to think Daddy is fun, fun, fun all the time and that's where I have the Marriage Ref argument because it's always mommy's the bad cop and daddy's the good cop.
BabySugar: You know you're a mother when ____.
Natalie Morales: When the most incredible love — every little thing your child does you just well up with this love and at the same time the most incredible heartbreak. They can say something and just crush you, annihilate you and you're just curled up in bed sobbing.
BabySugar: Fill in the blank. Why didn't anybody tell me _____ about motherhood?
Natalie Morales: It's pretty much all that I thought it would be. The one thing that I've learned is trying to keep my patience and not try to raise my voice, even though you know that's going to happen. But once you become a mom, you're like "Arrghh, it's really happening!"
BabySugar: What's the best trick your mama taught you?
Natalie Morales: Dealing with diaper rash! Long before there was Triple Paste, my mom was making her own concoction. Cortisone, cornstarch and petroleum jelly and mixing. She came and helped me out when (my first son) was born, and it was key!
BabySugar: Helicopter mom or free range kids?
Natalie Morales: I'm a little bit of a free range, but I come in for dives with the helicopter. I let them roam a little bit, but always within helicopter strike distance.