Nestle Introduces BabyNes Baby Bottle Milk System
BabyNes Bottle Feeding System: Ga Ga or Gag?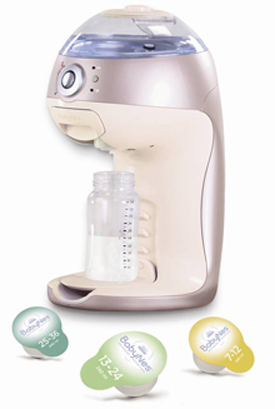 The pods are coming! Pretty soon you may be brewing up baby's bottle the same way you brew your cup of morning joe. Earlier today, Nestlé introduced a baby milk capsule system, using the same mechanics as the popular Nespresso coffeemakers.
The high-tech BabyNes machine ($287) works with a range of six single-serving formula pods (purchased separately in packs of 26 for $56-$64) to perfectly fill a bottle with the proper portion of milk (at the right temperature) in under a minute. According to Nestlé, the "nutrition system," which the company has been working on for six years, provides a hygienic and convenient way to prepare lil ones' bottles. Made for tots up to three years old, the BabyNes formula pods include four formulations for infants and two for toddlers – the difference being the proteins, calories, and micronutrients in the capsules.
Currently only available in Switzerland, would you want to see the BabyNes make its way to the US?