New Books by Dr. Seuss, Shel Silverstein, and Maurice Sendak
A Classical Return: 3 Children's Author Superstars Are Back!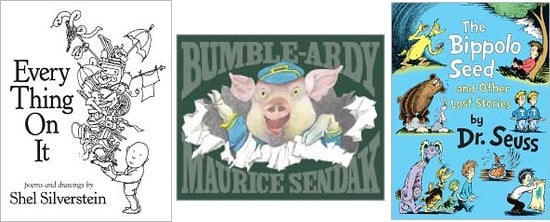 To some, they are the trifecta of children's literature — Shel Silverstein, Maurice Sendak, and Dr. Seuss. Between them, they have written more than 70 children's books including such classics as Where the Sidewalk Ends, Where the Wild Things Are, and The Lorax. While both Silverstein and Seuss are no longer alive, they join Sendak this month in introducing new books that are sure to end up on lil ones' bookshelves to complete their collections.




Every Thing On It by Shel Silverstein ($20) features 145 previously unpublished poems by the master of children's dark humor. Curated by his family, it is the result of a year's work, culling through the 1,500 poems the author and illustrator left behind.
Bumble-Ardy by Maurice Sendak ($15) is the author's first book in more than 30 years, and it is already making waves. The story of a 9-year-old pig that's never celebrated a birthday, he decides to throw a party for himself. Many parents are already up in arms over the seemingly scary characters that attend the party, but Sendak (who also once defended his Where the Wild Things Are characters) has said that parents underestimate children's desire for real characters.
The Bippolo Seed and Other Lost Stories by Dr. Seuss ($12) features seven Seuss stories that were previously published in magazines in the 1950s but never found their way into actual books. Using the author's celebrated rhymes, the "lost" stories tell various tales that tots will enjoy for years to come.