New Crib Safety Guidelines
Bumpers Are Officially Bumped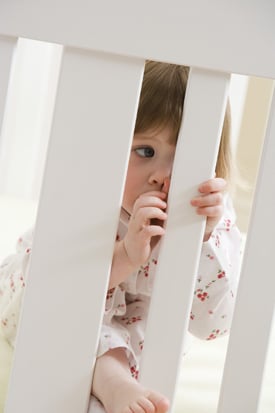 Bumpers begone! The American Academy of Pediatrics has updated their sleep guidelines, officially advocating against the use of crib bumpers for the first time. According to the new findings, bumper pads unequivocally should not be used in cribs because the pads don't prevent injuries, but can cause suffocation, strangulation, or entrapment. Bumpers have been falling out of favor within the medical community for the last several years, with antibumper sentiment gaining major momentum stemming from an article in the September 2007 issue of The Journal of Pediatrics, Deaths and Injuries Attributed to Infant Crib Bumper Pads, and this new AAP report SIDS and Other Sleep-Related Infant Deaths: Expansion of Recommendations For a Safe Infant Sleeping Environment will likely be the final nail in bumpers' coffin.
Keep reading to see what bedding companies are doing in light of the new recommendations.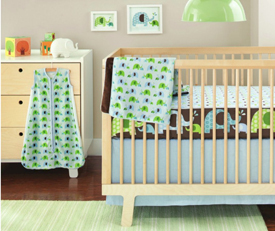 Despite the available information warning against the use of crib bumpers, manufacturers have continued to sell and market crib bedding with bumpers and quilts, when the only things that should really be in a crib are a firm mattress, fitted sheet, and a baby! Some smart companies like Carousel Designs offer options to coordinate fitted sheets with crib skirts, and there are options for purchasing just a fitted sheet from retailers like Amazon and Diapers.com.
As silly as it sounds, when you know the facts, a lot of parents love bumpers for their perceived aesthetic value — a major component in the nursery design. At the ABC Kids Expo, Skip Hop unveiled a patent-pending crib bumper alternative — the Complete Sheet, which is a standard fitted sheet with a different pattern along the sides that give the illusion of a decorative bumper. The Complete Sheet will be available in November à la carte, or as part of a coordinated four-piece set including the sheet, crib skirt, blanket, and wearable blanket.
What do you think about this news? Is it enough to get you to dump your bumper once and for all?