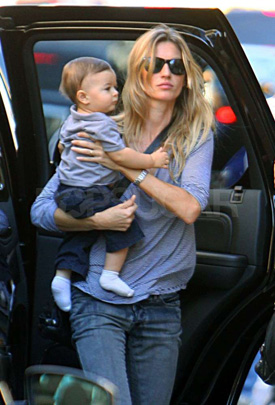 Hair loss is the pain after pregnancy! It often occurs in the months after a new mama's hormones adjust. From the clumps of hair found in the shower drain to the baby wisps that sprout up, mothers have much to deal with after delivery. We asked Paul Lebrecque from the eponymous salon for some tips in managing postpartum hair.
Don't be afraid to keep hair long. Paul agrees that the 47 percent of LilSugar readers who have kept their hair long are making life easier. Long hair gives moms more options, including ponytails, chignons, and updos.
Consider a Keratin treatment. The Brazilian straightening treatment makes blowouts fast and easy, lasts for up to three months, and is safe for use on nursing mothers. Paul does recommend that moms should pump and dump their first batch of milk the next day as a precaution.
Keep popping prenatal vitamins. The same vitamins that give expectant mamas thick manes and strong nails can help combat hair loss. Paul tells his clients to stay on the pills for three months after their tots have weaned.
For more of Paul's tips,
.
Perfect the updo. Tactile tots love pulling on (and eating) their mama's hair, so having a signature updo will keep hair neat and out of the way. Paul says clips, like the Ficcare Maximus ($36), give moms many options with minimal effort. For an easy French twist, simply twist hair into a ponytail at the nape of the neck, put a clip in the base, and twist the hair back into itself.
Slick back wisps. According to Paul, women can lose up to 30 percent of their hair after delivery, leaving plenty of room for wisps. Slick them back with either a silicone serum or a pomade to keep them under control.
Don't be a slave to the hair dryer. Get a good haircut that embraces the natural texture of your hair so you don't have to fight it every day.
Follow the three-level rule. Never change your hair color more than three levels; it requires too much salon time to maintain.