Notes to Self Positive Message Socks For Kids
Notes to Self Socks: Ga Ga or Gag?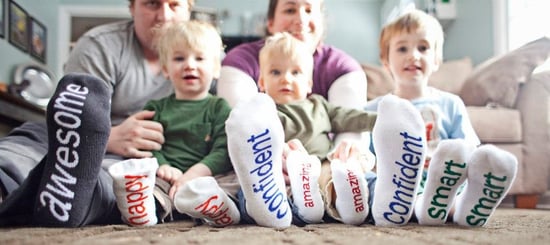 You want your kids to feel great about themselves from head to toe, and Notes to Self Socks has those feet covered — in a host of positive messages! The company was started by mom-of-three Laura Schmidt, whose love of positive affirmations inspired her to create a sock line that features words and phrases like "smart," "confident," and "I am amazing" on the toes and soles. "I like the idea that someone wearing the socks sees a phrase such as 'I am strong' first thing in the morning when they are putting on their shoes and at the end of the day," she says. "I hope the socks give people, especially the young, encouragement and confidence to become the best that they can be!"
Available for babies and kids, the socks sell for $10-$11 a pair and can be purchased on Note to Self's website and at various stores across the country. So what do you think of Notes to Self Socks? Would you buy them for your kids? Weigh in below!