NuRoo Pocket Baby-Wearing Shirt
The NüRoo Pocket Baby-Wearing Shirt: Kid-Friendly or Are You Kidding?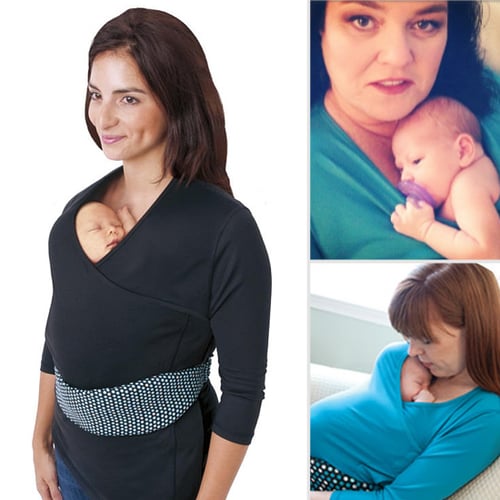 There's no question that skin-to-skin contact can have positive nurturing effects on a newborn. But for a busy mom (especially one with older kiddies to run after), it can be hard to find the time to kick back with your new baby on your bare chest. This was the inspiration for the NüRoo Pocket, a cleverly designed top that allows you to hold your little one close to the skin, kangaroo style.
Last week, new mom Rosie O'Donnell posted a pic of herself wearing the NüRoo Pocket with baby Dakota tucked cozily inside. Available exclusively at Babies 'R Us, the baby-wearing shirt retails for $60 and comes with a support belt. According to Nuroo.com, positioning baby on your bare chest for an uninterrupted 60 minutes triggers a hormonal cascade that can benefit both the baby — accelerating brain development, decreasing crying and stress, and enhancing the immune system, to name a few — and the mom, reducing the risk of postpartum depression, speeding up recovery time, increasing milk production, and improving psychological well being.
Tell us, would you wear a NüRoo Pocket?