Nut Free Halloween Treats
Nut-Free Treats Help Allergic Kids Celebrate Halloween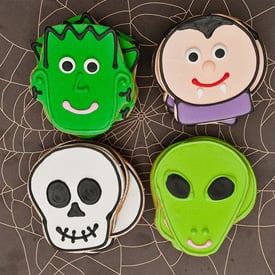 No tricks, just treats! Halloween is a particularly spooky time for tots with allergies. With so many sweets passing through kids' hands, it's best for mama to have a few holiday-themed treats on hand to alleviate any accidents. As nut allergies become more prevalent, many bakeries are going nut-free – guaranteeing that their goodies are baked with ingredients and in facilities that have never been contaminated by the highly allergic nuts. Here are a handful of nut-free bakeries that will ship their Halloween cookies nationwide.
Boston-based Fancy Pants Bakery ships their nut-free goodies nationwide, including their Monster Mash Cookie Gift Set ($40), pictured here.
Eleni's adorable Halloween cookie tins (starting at $25) are all nut free and perfect for a group gathering, or to send to fellow costumed pals.
Though not up on their site yet, Seattle-based Little Rae's Bakery will be shipping their peanut- and tree nut-free Halloween-themed shortbread cookies nationwide again this year.
O My Goodness' Kosher and nut-free cookies are available in a wide selection of spooktacular shapes and will be a hit with allergic trick-or-treaters.
Want to make your own nut-free party treats? Cherrybrook Kitchen Sugar Cookie Mix is peanut-, dairy-, and egg-free, making it safe for most of the kids who'd be attending your event!