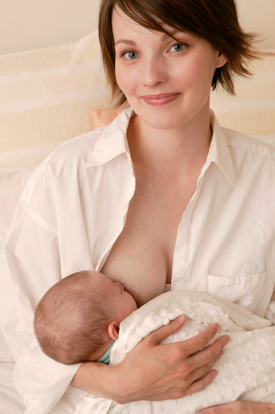 Wouldn't it be nice if we could replace the "breast is best" slogan with "breast is easiest"? While doctors, new moms groups, and even the government are quick to point out the health benefits of mother's milk, most first-time mothers can tell you that actually getting that liquid gold into a baby's mouth isn't always easy.
Today, US Surgeon General Regina Benjamin will issue a report outlining steps "all sectors of the community" can take to remove the hurdles women face when trying to breastfeed during the first six months of a baby's life. While the new health care laws require employers of large companies to provide new moms with dedicated time and space for pumping (not including the bathroom), the nation's highest ranking medical professional says there are more obstacles to be cleared. Perhaps one of the first places she should look is the I.R.S.'s decision to tax breast pumps, rather than considering them a medical care expense.
What was the biggest hurdle you faced in nursing your tot?