Offering Parents Advice
Mommy Dearest: When Is It OK to Offer Advice?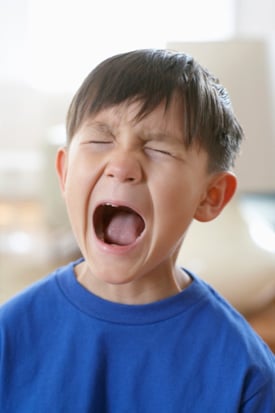 Mommy Dearest –
We recently attended one of my son's classmate's birthday party at the local firehouse. As part of the celebration, the firemen gave a demonstration of what to do in case of an emergency. During the lesson, one child began getting antsy because he wanted to climb on the firetrucks. Then he melted down completely and had an all-out tantrum on the floor. The mother kept shushing him and asking him to listen. After bringing the party to a halt for five minutes (with no signs that the tantrum was going to end), I suggested that she may want to take her son into another room until he calmed down. She quickly shot back that I should save my parenting advice for my own child. Was I wrong to interfere in this situation?
– Just Trying to Help Mommy
To see the response from Mommy Dearest,
.
Dear Just Trying to Help Mommy –
We've all been in situations where our lil ones misbehaved. Childhood meltdowns always do seem to come at the most inopportune times – and when everyone is watching us. While I normally would tell you to mind your own business, this particular situation was affecting everyone else at the party. If the party was indeed drawn to a halt while everyone waited for the mother to gain control of her child, I think you were fine to make the suggestion.
— Mommy Dearest
Submit a question for this series at the Mommy Dearest Group on our new community page.