Ok to Wake Alarm Clock
Mommy's Lil Helper: OK to Wake!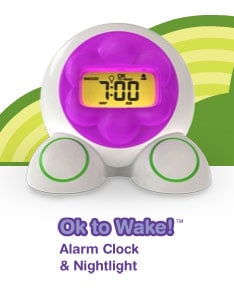 If the early bird gets the worm, my daughter could open a bait shop and sell them wholesale. Maybe it's normal for a two-year-old to wake up before sunrise, but it's beyond rough to deal with a newborn all night and then a toddler at 5 a.m. I would be willing to dole out a decent chunk of change if I could get her to stay in bed for another hour or three!
The folks at American Innovative certainly know what that early morning wake-up call is like. In an effort to keep children tucked in and parents snoozing, they created the Ok to Wake! clock ($30) that changes from the purple nightlight to daytime green — signaling it's okay to get out of bed. Always up for a game, my daughter may not sleep later, but at least the clock will allow us to rest a little longer.