Old Navy Animal Print Shoes
Supersize This: Zebra Print Ballet Flats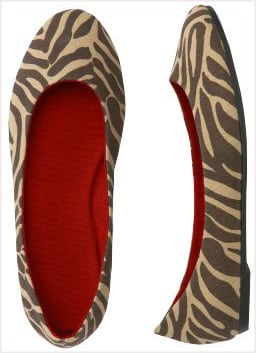 When your daughter belts out lamentations at the top of her lungs, it makes you wonder if she has animal instincts. All lil girls should show their wild side every now and then.
They can look the part in these sassy Zebra Print Ballet Flats ($10) from Old Navy. Shown in the brown and tan zebra print, the flats also come in red and brown leopard spots.
So rather than just listening to the growls and roars, suit her up in some flashy safari gear.