Olympic Activities for Kids
Catch the Olympic Spirit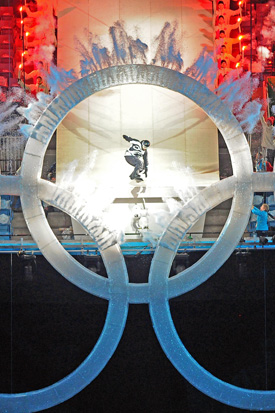 Let the games begin! If the weekend's activities are any indication of the excitement to come over the next two weeks, the Vancouver Olympics are must-see TV for parents and kids.
From the graceful figure skating competitions to the unbelievably fast downhill skiing and luge events, the Winter Olympics schedule is filled with events to pique lil ones' interests in cold weather sports. The Games also provide parents an opportunity to explain the importance of sportsmanship and global unity. To help wee ones better understand various aspects of the Games:
Using a globe or map of the world explain where the various athletes come from. You can also print out a blank map of the world and have kids color in countries or regions as their athletes win events.
Have the kids draw the Olympic rings and explain that the intersections represent friendship between nations.
Hold your own mini-Olympics with any snow you may have in the yard. Arrange sledding, snowball throwing and related activities. Don't forget medals for everyone involved.
Create your own Olympic torches to kick off the games. Using your map explain how far the torch traveled and have the kids practice running with it.
And to help your budding athlete dress like an Olympian, check out some gold medal clothes below.