One Sure Cure For Cradle Cap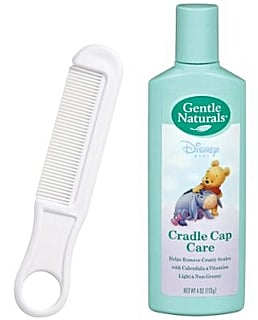 My two older kids never really got cradle cap, but my little guy had it for a couple of weeks after he came home from the hospital. Hesitant to scrap the scales off of his scalp, particularly his soft spot, I waited to see if it would clear on its own. Since he has blond hair, it wasn't terribly noticeable, but eventually tiny flakes settled in his eyebrows, irritating his eyes.
To solve the problem, I took a super fine-tooth comb and massaged his head with a quarter-size dollop of Gentle Naturals Cradle Cap Treament ($7). The oily lotion works wonders. I ran the comb through his hair in a back and forth motion, which pulled the flakes out without irritating his lil head, and took time to rinse the comb in between. After five minutes and a final sudsy shampoo and rinse, my guy was cradle cap free, and it never came back.