The temperature's rising, school's out of session, and all your kids want to do is sit inside and play. Make the next warm Summer day more fun than ever with games, crafts, and activities they can't really do indoors. From messy projects to those that will cool tots off with splashes of water, we've come up with 41 activities that will have tots begging to head outside this Summer.
— Additional reporting by Emily Bibb
Craft With Seashells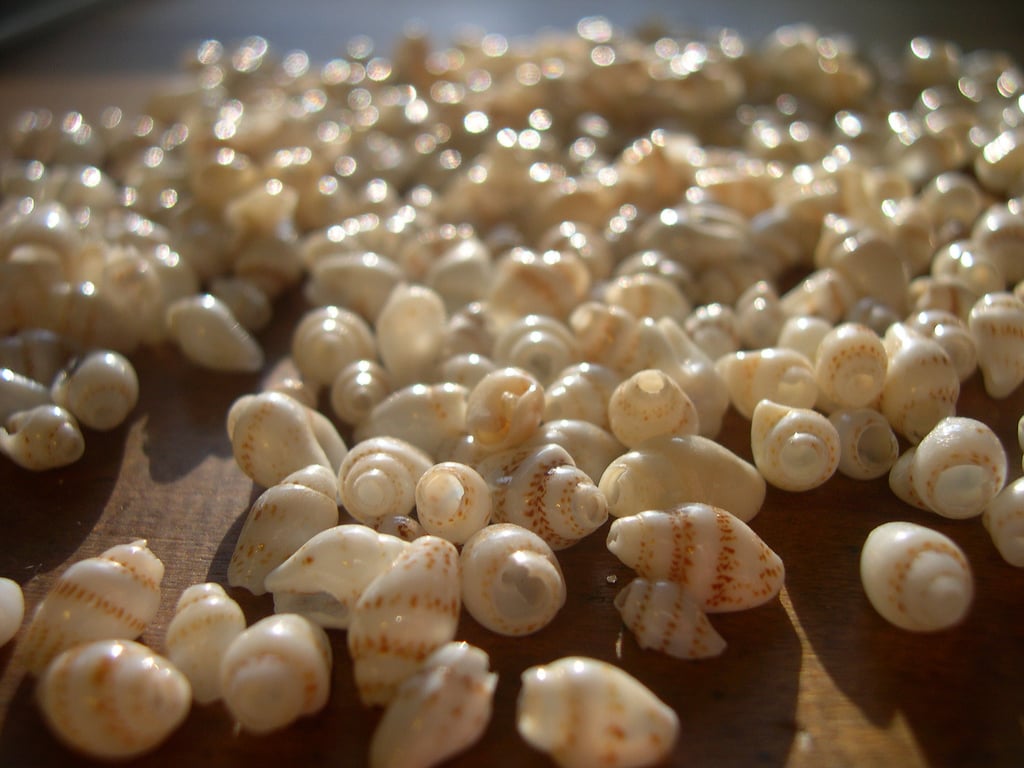 Seashells make a great craft because they are inexpensive (or free) and the options are endless. Your tots can paint them, string them, or stack them. The only thing needed is some glue and a little creativity!
Source: Flickr User Athena's Armoury [1]
Write a Summer Bucket List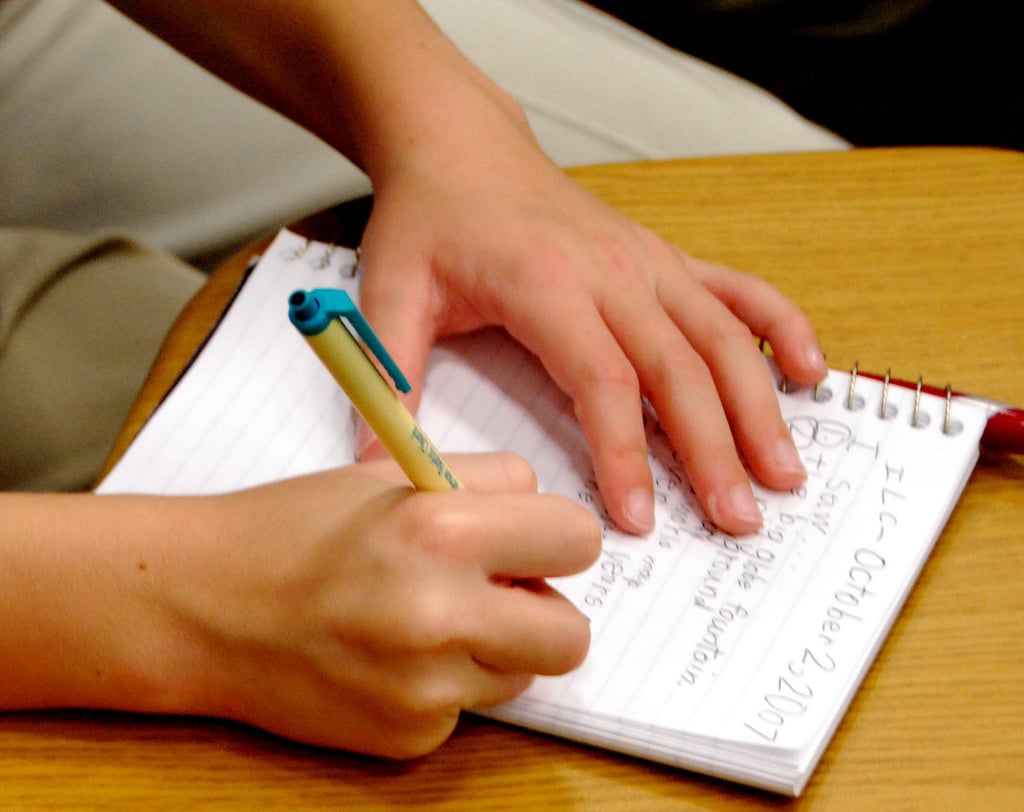 Teach the kids about setting goals early on with a Summer bucket list. It doesn't have to be anything serious — friendships, new sports, or recipes — but it will be fun to check items off the list and turn to it for ideas when it feels like you're in the midst of an endless Summer. Consider making one at the end of the Summer too, heading into the school year.
Source: Flickr User Praying for Lions [2]
Make a Slip 'n Slide
Oh the slip 'n slide! Whether you choose to homemake one [3] with plastic sheeting or purchase one [4] ($20), no child will turn this activity down. Try adding pool toys and setting it on a slight slope to increase the fun factor.
Source: Wendy Updegraff Photography [5]
Make Designs With Body Paint
No need to head to the fair; have fun at home with body paint [6] ($7). Use a paint brush and glitter to draw their favorite designs.
Source: Flickr User detroitjetaime [7]
Try a Bubble Paint Project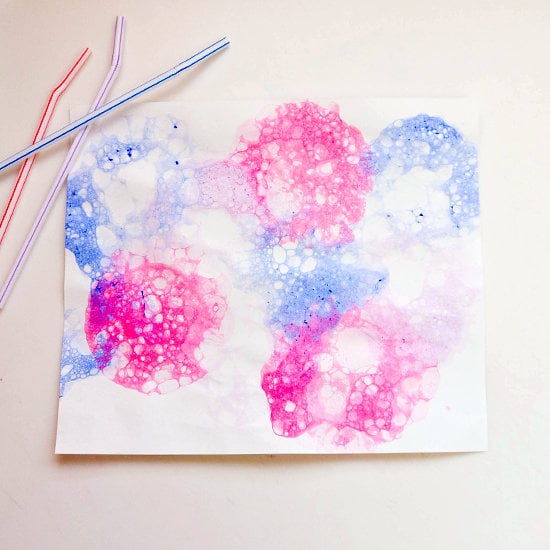 This time it's OK for your child to blow bubbles in her drink! With only a few ingredients you probably already have around the house, your tot will make beautiful and dreamy bubble prints [8] that turn into great book covers, handmade cards, or decorations for her room. Messy, yes, but that makes this project even more fun — and perfect for a sunny Summer afternoon!
Source: Sarah Lipoff [9]
Take a Hike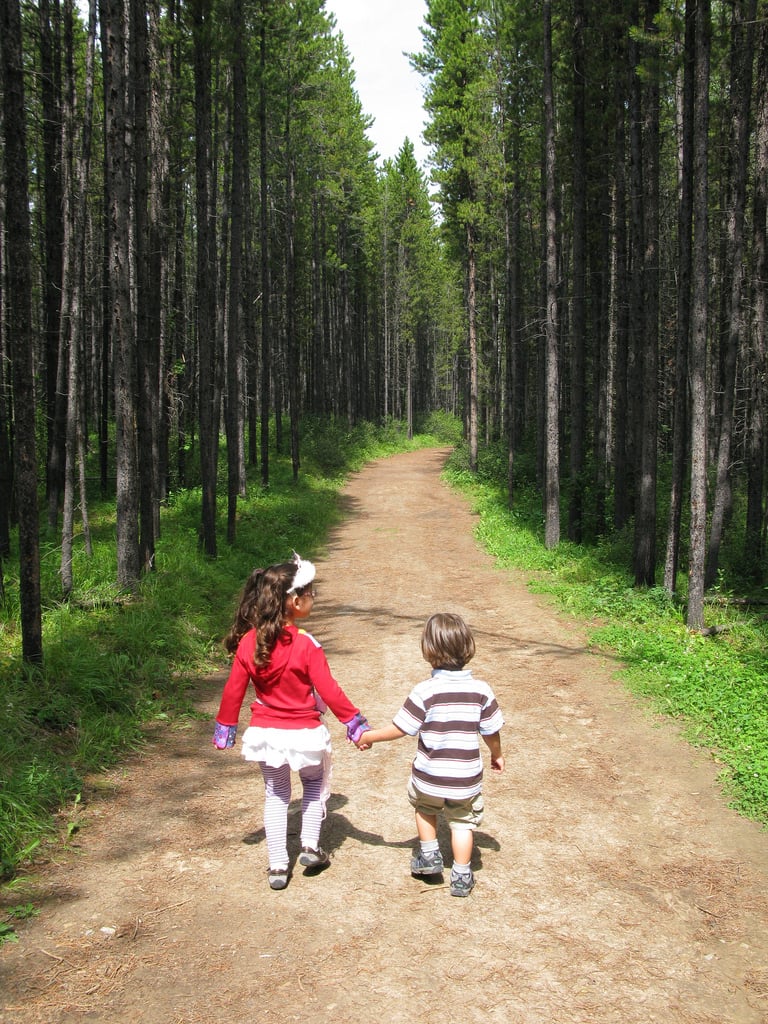 Head outdoors with a local hike. A scenic stroll is just the way they can get their energy out and explore good ol' Mother Nature. It's the perfect opportunity for teaching them about plants and flowers too.
Source: Flickr User courosa [10]
Paint a Chalkboard Wall
A chalkboard wall gives your artists a place to draw without the worry — phew! Consider these creative ideas for chalkboard paint [11] and read this guide [12] before you get started.
Source: Green is the New Black [13]
Feed the Ducks
Pack up the kids, head to the park, and feed the ducks! With just a roll of bread, you and the kids are guaranteed endless entertainment, not to mention giggles. You can even make a half-day trip of it, packing a lunch and hanging by the playground.
Source: Flickr User j_lozinski [14]
Start a Lemonade Stand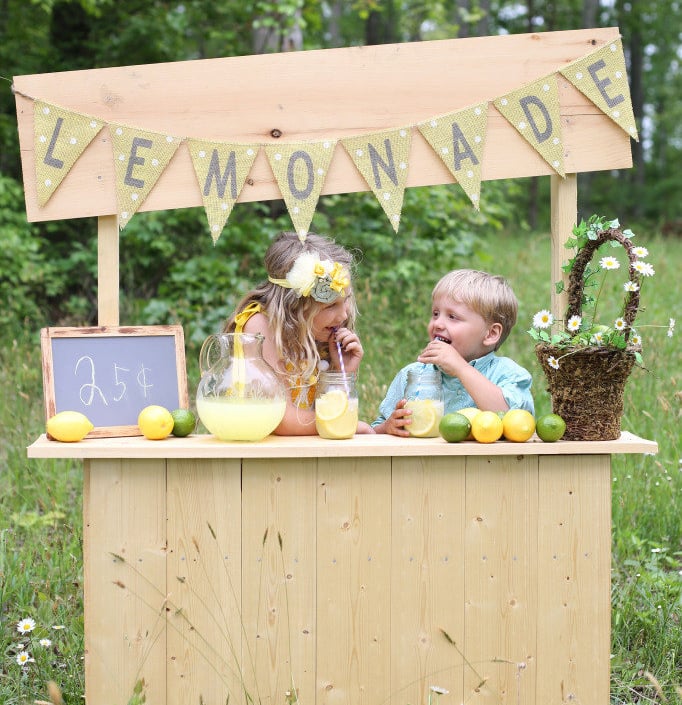 A classic Summer activity, starting a lemonade stand is easy to do and will help teach them a bit about business. Get inspired [15] and stir up a pitcher; this activity will keep them busy all day.
Source: Nikki Hayes Designs [16]
Play With Sidewalk Chalk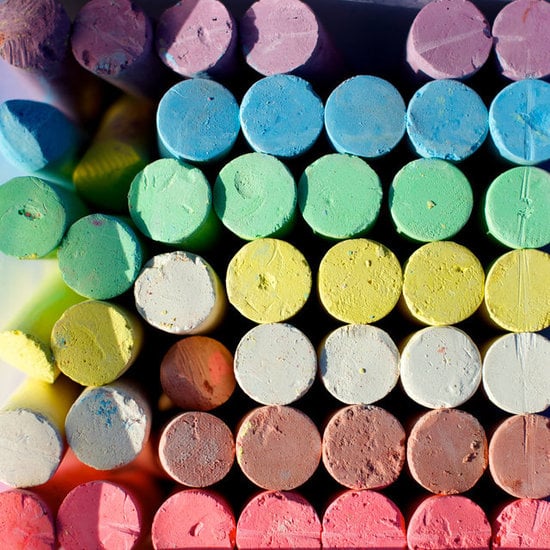 One bucket of sidewalk chalk will lend itself to hours of entertainment and tons of learning opportunities. All you need is a concrete space, a wild imagination, and a hose for cleanup. Try these five ideas [17] to start with.
Source: Flickr User dhanlian [18]
Make Chalk Spray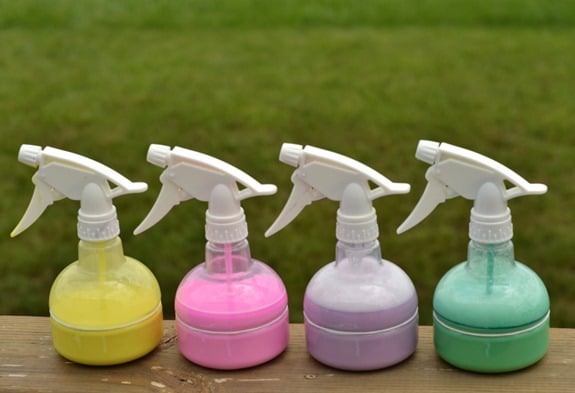 Sure, the kids can play with sidewalk chalk this Summer. But why not switch it up a bit and let them spray their chalk. By simply mixing paint, water, cornstarch, and soap [19], they'll have a unique formula that's fun to spritz on the driveway and sidewalk.
Source: Infarrantly Creative [20]
Turn the Deck Into a Massive Game Board
Board games are a lot more fun when you can actually jump into them. The 36th Avenue [21] converted their deck into a game board with a giant pair of dice.
Source: The 36th Avenue [22]
Make a Trike Car Wash
With little more than some PVC pipe and a garden hose, you can transform your driveway into a car wash for small tricycle riders.
Brew Up Sun Tea
On extremely hot days, brew up sun tea. It's rather simple and the kids will get a kick from brewing a tasty drink outside. This spearmint tea recipe [24] is a sweet combination of lemon and mint for a nice summertime flavor.
Source: Food Fashion and Fun [25]
Play Car Wash
A car wash is probably one of the few chores that can be turned into playtime. Get out the buckets, rags, and bubbles, and let them have fun with it. Reward them for their hard work with a few bucks or a trip to the candy store!
Source: Flickr User DoubleLPhoto [26]
Create an Outdoor Science Lab
Science is fun but messy. So bring the lab outside in the Summer and let kids mix and spill to their hearts' content! This outdoor science lab [27] has everything kids need to start experimenting — beakers, test tubes, food coloring, and a ground ready to soak up the spills!
Source: Caution! Twins at Play [28]
Make a Sundae Bar
Kick the kids' sweet tooth into high gear with an ice cream sundae bar. All you need is a few flavors of ice cream and their favorite toppings, like Oreos, gummy bears, and sprinkles (of course!).
Source: Flickr User firefly64 [29]
Make a Giant Outdoor Kerplunk Game From Tomato Cages
Who doesn't love a game of Kerplunk? When the weather gets warm, head outside and make a giant version of the game out of tomato cages. Better yet, fill it with water balloons for some fun play.
Source: Design Dazzle [30]
Make a Garden Sensory Bin
Sensory boxes are a fun way to get kids talking about what they're seeing and feeling. This garden sensory bin [31] is a great way to wrap a theme around the bin.
Source: Mess For Less [32]
Play Dress-Up With Face Paint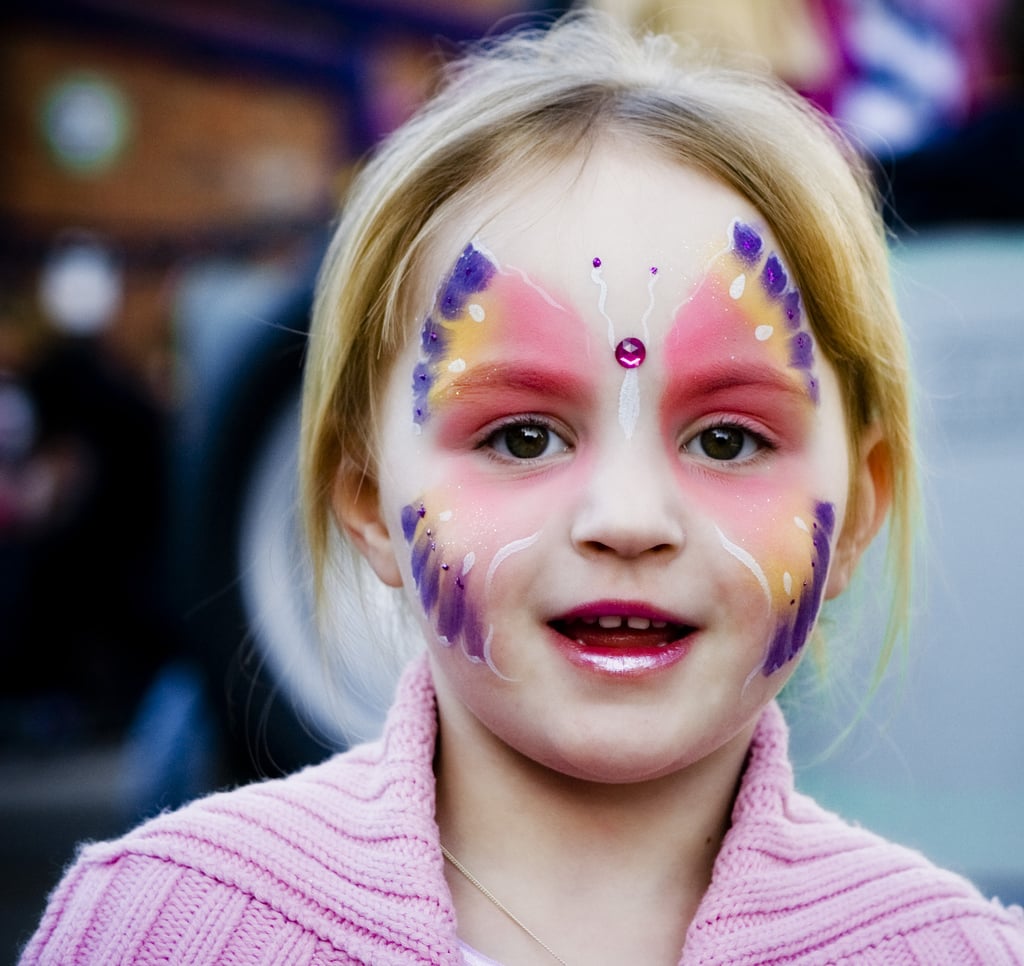 Turn the kids into their favorite animals with face paint, glitter, and jewels. Don't worry if you're not a professional makeup artist, we have all the tips and tricks [33] you need to know.
Source: Flickr User left-hand [34]
Make Ice Cream in a Coffee Can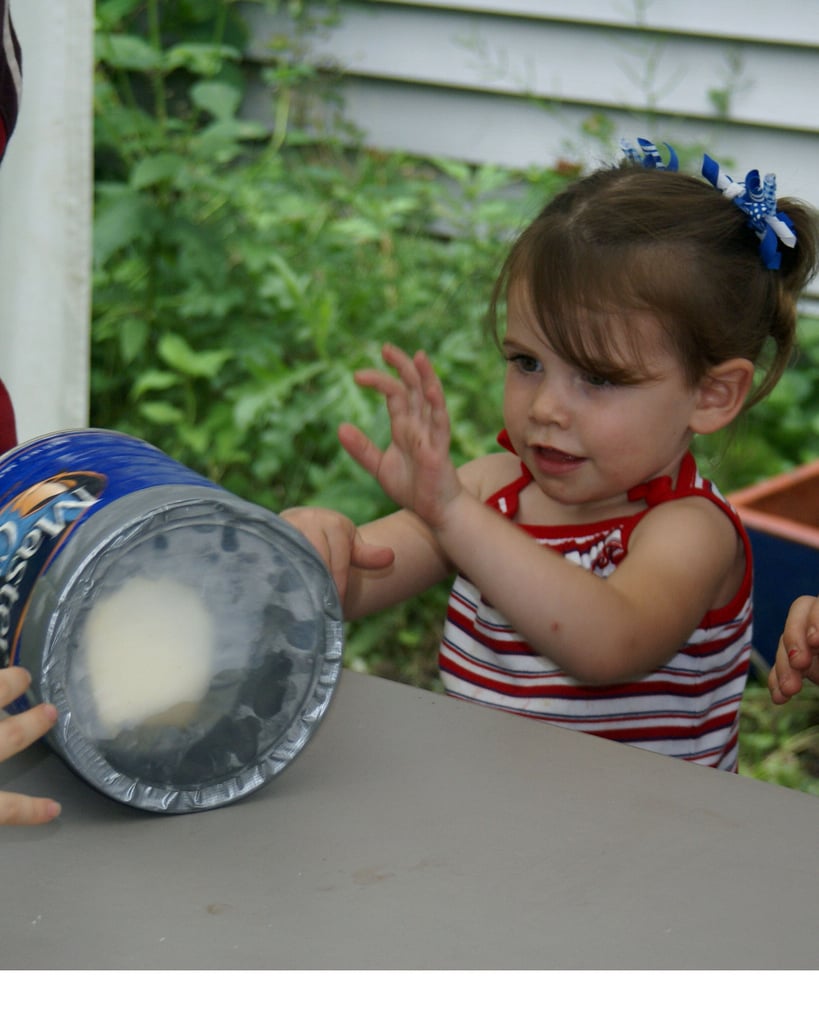 Avoid the mess of making ice cream inside with this fun and toddler-friendly activity. Simply mix the ingredients and then have the kids roll the can back and forth!
Do Some Edible Popsicle Painting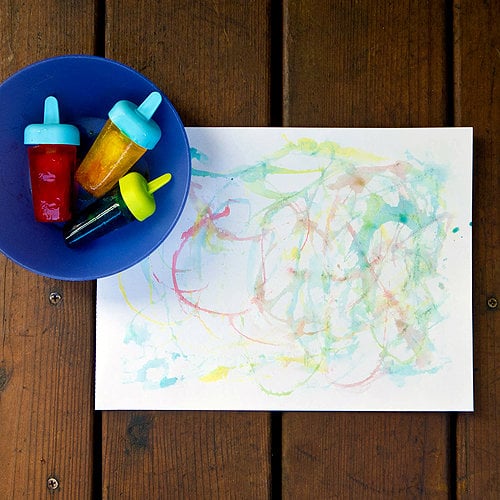 Beat the heat with this seriously easy and fun edible popsicle painting activity [36]. Make some popsicles the day before you know things are heating up, and you're ready for a Summer painting adventure.
Source: Sarah Lipoff [37]
Build a Waterfall Water Wall
Imaginative, and a fun way to keep cool! We love this waterfall water wall [38] that kids can create using household items and a garden hose!
Source: Playing by the Book [39]
Have a Campfire
Some of the best Summer memories can be made around a campfire. If you have a fire pit or access to one, let the kids roast everything from veggies to s'mores. After everyone is fed and full, tell stories and share in some good laughs.
Source: Flickr User annalea hart [40]
Host a Water Fight
Turn on the sprinklers, crank up the hose, and fill up those water guns; it's time for a water fight! The perfect activity on a hot day, water fights are a great substitute for the pool and a fun way for the kids to keep cool. Just be sure to have the towels handy.
Source: Wendy Updegraff Photography [41]
Do Some Tie-Dyeing
Tie-dyeing, that age-old activity that helps color little ones' clothes, is a great way to have some fun this Summer, but by moving it outside, no one has to worry about it ruining furniture.
Start Soap Boat Racing
For less than $10, your kids can create a backyard race track that will keep them entertained all afternoon. These soap boat races [43] are not only fun for kids, adults will love competing too!
Source: I Heart Naptime [44]
Plan a Water Balloon Fight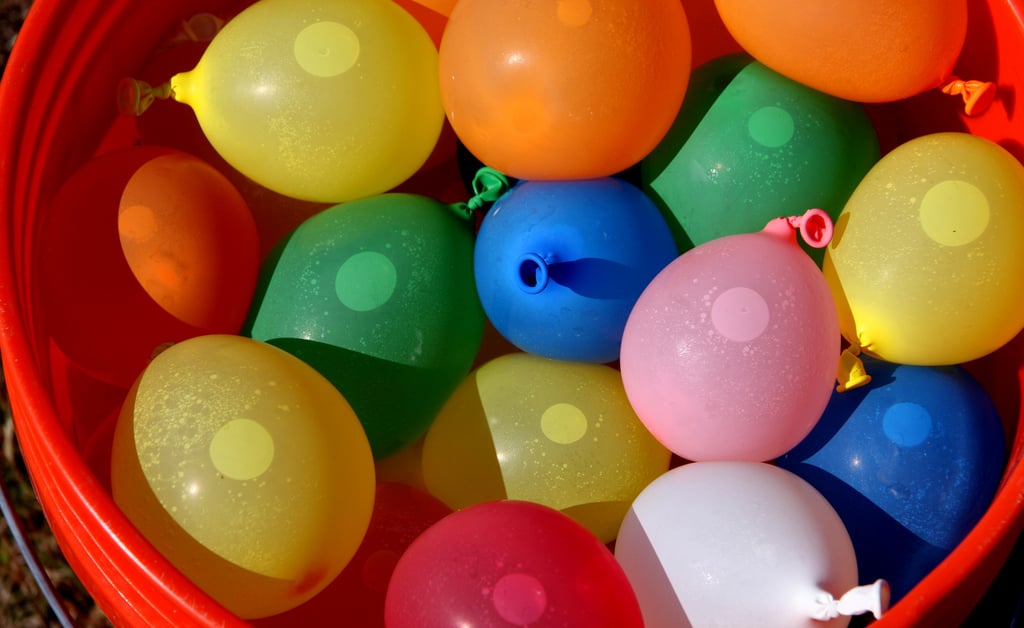 On a particularly hot day, fill some water balloons and place them in baskets throughout the yard. Then invite the neighbors over and inform them all of your water balloon fight.
Source: Flickr user eflon [45]
Plan a Treasure Hunt
Pull out the pirate hats and send them on a treasure hunt. Make a treasure map by staining the paper with coffee and burning the edges. Then, have a prize — gold coins — hidden at the end of the journey. Watching their excitement will be just as fun for you as it is for them.
Source: Flickr User Chica and Jo [46]
Play Sidewalk Sudoku
If your tot already loves the game of sudoku, put the pen and paper away and shut off the iPad because it's time to create a giant version for the driveway [47]. Once other kids see your tot solving the puzzles, they'll be quick to join in the fun!
Source: The Usual Mayhem [48]
Set Up an Obstacle Course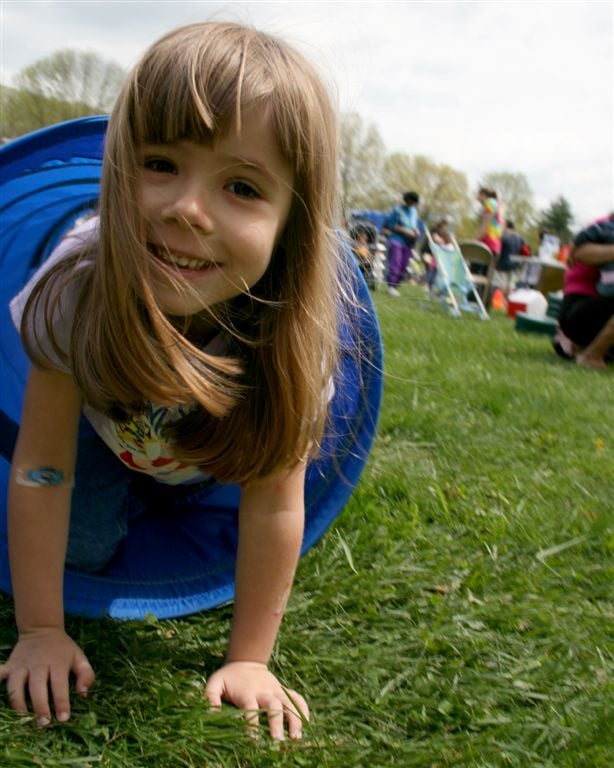 Get the kids into a competitive spirit with an obstacle course. Using objects you already own (ropes, tubes, and beams), you can create a backyard course that tests their agility and will keep them entertained for hours. It also makes an affordable party theme too!
Source: Flickr User Cayusa [49]
Head to the Beach
If you live on a coast, nothing beats a day at the beach. Pack these essentials for the babe [50] and let the tots play in sand. Just don't forget the sunscreen!
Source: Flickr User MikeHenryPhoto [51]
Decorate Cookies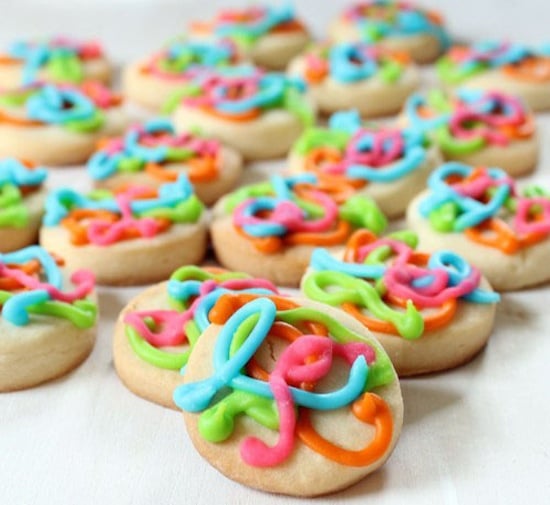 No need to wait until Christmas; bake up these gooey sugar cookies [52] and let the tots decorate. Use cookie cutters, food coloring, and sprinkles to make each cookie unique.
Source: Flickr User thedecoratedcookie [53]
Plant a Garden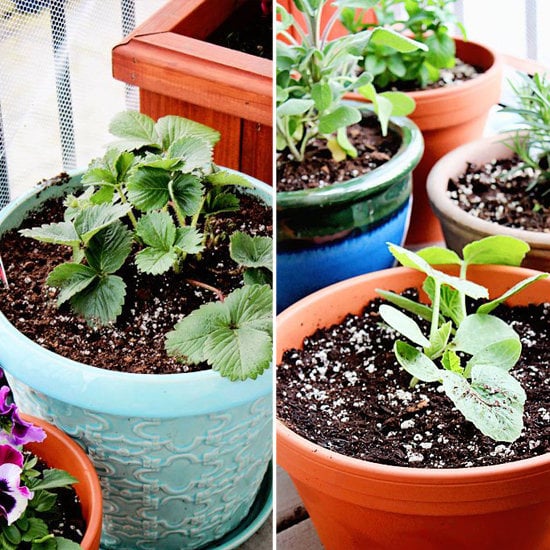 Get outside and get gardening. Starting a garden [54] is a great way to teach the kiddos about fresh food and get them cooking later on. Between the watering and the weeding, a garden will keep them occupied all Summer long, too. If all goes as planned, they'll have a pumpkin come Fall!
Source: Sweet Happy Life [55]
Try Throwball Painting
Art and movement join forces when you start throwball painting [56]. All that's needed is a box, some paint, and some balls. The end result is nothing short of colorful!
Source: Blog Me Mom [57]
Plan a Picnic
Pack for a picnic and head to the park; it's time for an adventure! Between their favorite snacks and these picnic essentials [58], you'll have a nice afternoon under the sun.
Source: Flickr User Paul and Christa [59]
Make a Spray-Paint Craft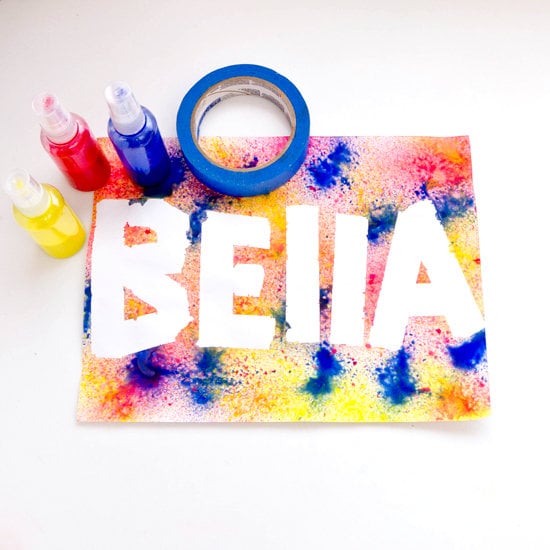 Get out the spray bottles: this spray-paint craft [60] will have your tot spritzing away! Along with making something really colorful, this activity will get all those little hand muscles moving, perfect for building fine motor skills. Your child will also explore color theory, seeing what happens when the primary colors (red, yellow, and blue) mix together! Doing this project outdoors makes cleanup as easy as a hose-down.
Source: Sarah Lipoff [61]
Go Fountain Jumping
Plan a day of visiting park fountains and splash pads to keep the kids cool. Each pad is different, providing tots with tons of different ways to play.
Source: Flickr user codyr [62]
Have a Scavenger Hunt
Put your little detectives to work with a scavenger hunt. This is a great activity for a group of kids, and you can set it up anywhere: park, backyard, house, or neighborhood. Keep it simple or turn to this detective party [63] for clues on how to set up a more elaborate adventure.
Source: Flickr User LauraCornwall [64]
Camp in Your Backyard
No Summer is complete without a night of backyard camping. Pitch a tent, make s'mores, and tell campfire stories — no worry of bears necessary!
Source: Flickr User Barjinder S. [65]
Ice Eggs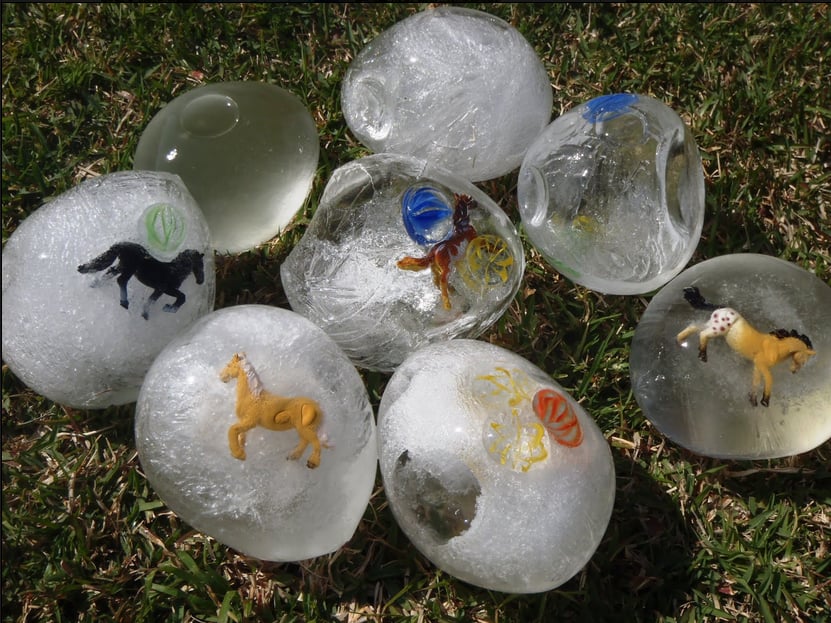 You can create a world of discovery for your tot with these ice eggs [66]. The night before a warm day, simply fill a balloon with water and add in a small toy or two. Send the kids outside to examine them and see what objects they can find.
Source: A Little Learning For Two [67]