Pacimals Help Moms
Mommy's Lil Helper: Pacimals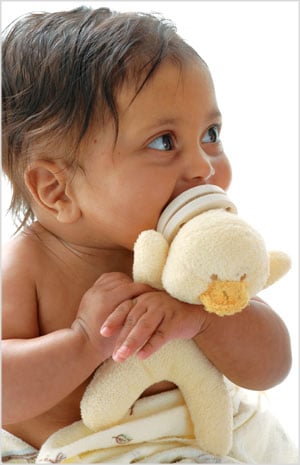 Created by a female doctor, who is also a mom, Pacimals ($20) help mom out by keeping pacifiers in baby's mouth instead of on the floor (at least most of the time).
Parents who lament over going into their child's nursery throughout the night to plug the mouth of their newborn might find this product a lifesaver. The Pacimals are fuzzy stuffed animals that have silicone pacifiers attached to the back of their heads. The furry creatures help baby hang onto the pacifier and make it easier to self–soothe, giving mom and dad a break.
It may seem a little unsanitary, as your baby will be sucking on something so close to a stuffed animal. But the creator solved that problem by making the pacifier removable so you can throw the animal in the laundry. You can also throw the nipple in the dishwasher so the whole product is as clean as a whistle!
And when it's time to give the pacifier the old heave–ho, you just snip it off and present your babe with the revamped version of his old plush friend. You can choose from these zoo animals: bear, duck, pig, monkey and rhino.