Pumpkin carving is a Halloween [1] tradition that's often times overrated. Those pumpkin creations that you're seeing all over Pinterest [2] may be inspiring, but they're often the work of an expert, not an ambitious mom and her kids. Save yourself the hassle, mess, and potential danger that comes with wielding a knife and scooper, and instead try one of these 20 awesome no-carve pumpkin ideas this year.
Frozen In the Fall
They want to dress Frozen characters, sing Frozen songs, so painting Frozen pumpkins is the natural next step!
Potato Head Pumpkins
From Amy at Let's Explore, this simple pumpkin decorating idea [3] will have your neighbors taking a second look! Just pop Mr. or Mrs. Potato Head [4] parts into your pumpkins for a seriously cute (and mess-free) Halloween [5] decoration.
Pipe Cleaner Spider
Use a small pumpkin to create a fun Halloween [6] spider for your front stoop. Your kids can paint the pumpkin all black, or decorate with spooky spider features. Once the paint is dry, stick bent pipe cleaners into the pumpkin to create spider legs.
Boo!
It doesn't get any easier than this simple, but sweet ghostly gourd.
Dia de Los Muertos
An intricate black and silver pumpkin inspired by the Mexican "Day of the Dead" would be a fun task for an especially crafty teen or older kid to take on.
Artfully Painted
This tutorial from Lacquer and Linen [7] proves that mastering chic, artful creations like these is a whole lot easier than it looks.
Trendy Chevron Stripes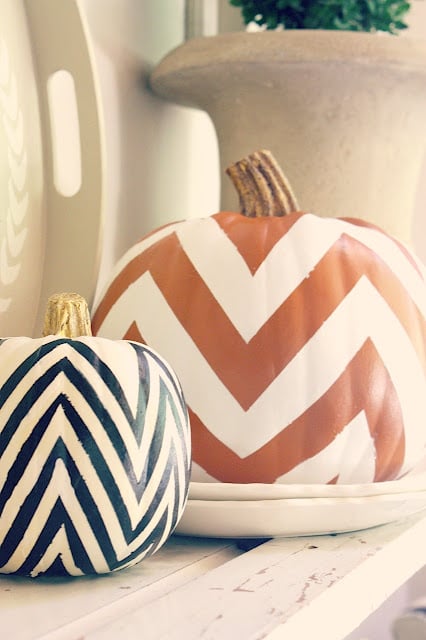 My Sweet Savannah shares a tutorial on how to create modern, chevon-striped pumpkins [8] that will turn your front step into a chic Halloween [9] celebration.
Bedazzled Pumpkins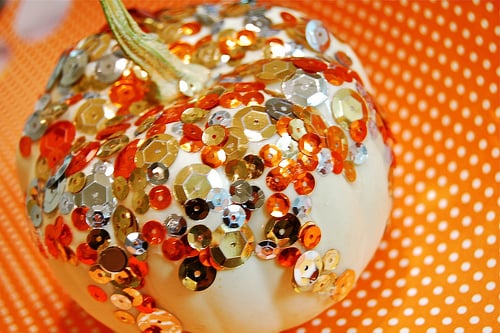 With the help of tacky glue and handfuls of sparkling sequins, your child can create a festive no-carve pumpkin [10] that seriously glitters this Halloween [11].
Big Bird!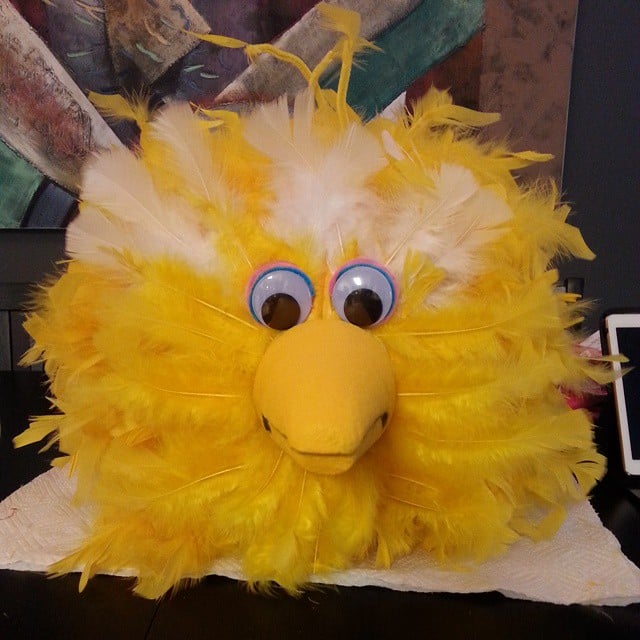 It's hard to even tell that this Sesame Street-inspired creation was ever a pumpkin to begin with. It'll be the talk of the neighborhood!
Trick or Treat
Even if you wait until the last minute, you can still create something extra-special with a metallic marker (and a steady hand!)
Big Jewels
To create this look, invite your child to coat the outside of the pumpkin with black acrylic paint using a foam brush or roller. Once the pumpkin is dry,use tacky glue to squeeze dots around the painted gourd, and then press on big, glittering, clear plastic jewels. Finish it all off by painting the stem with silver acrylic paint.
Painted Faces
Ditch carving intricate jack-o'-lanterns and use black-and-white acrylic paints to create smiling pumpkin faces instead. Simply use a paintbrush in place of a knife to create these Halloween [12] gourds.
'Stached Pumpkins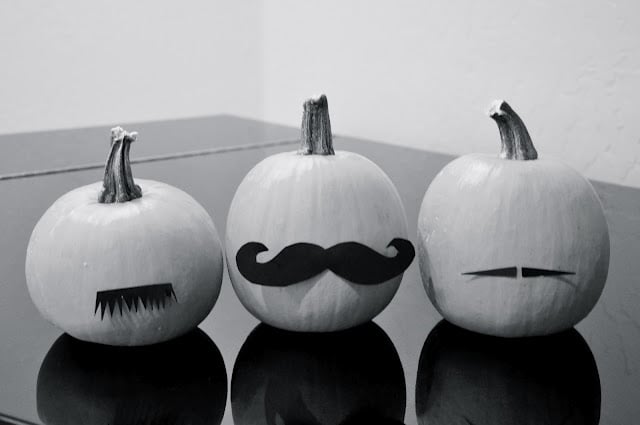 With just a bit of black felt or heavy tag board, you can create minimalistic, artistic mustache Halloween pumpkins [13] just like blogger Annily Green. Simply cut out the shapes, and then your little one can adhere with tacky glue.
A Very Hungry Cater-Pumpkin-Pillar
Inspired by the beloved Eric Carle classic, this transformative approach to a bunch of pumpkins is absolutely adorable. Glue on felt circles for the spots, and pipe cleaners make fantastic antennae!
Candy Corn Can-Do
Spray paint creates the ombre look of this candy corn-inspired duo. Just make sure your little ones don't try to take a nibble!
Three Blind . . . Gourds!
This clever take on Three Blind Mice turns a trio of pumpkins or gourds on its side.
All in the Family
This "family portrait" is truly one-of-a-kind. While this one was pretty masterfully done, we think that the results will be adorable no matter your kids (or your own!) abilities.
Geometric Patterns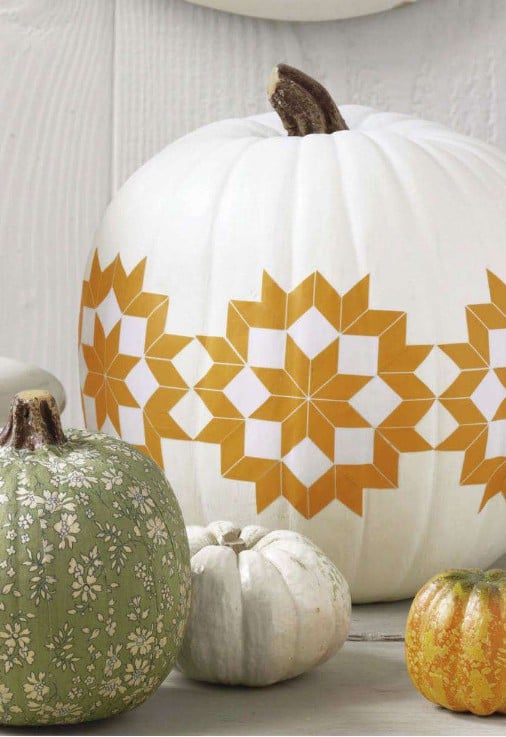 A beautiful mosaic pattern is a sophisticated way to decorate for the holiday.
Relief Scraping
You don't have to carve, just scrape, to get this tree ring pattern.
Chalkboard Style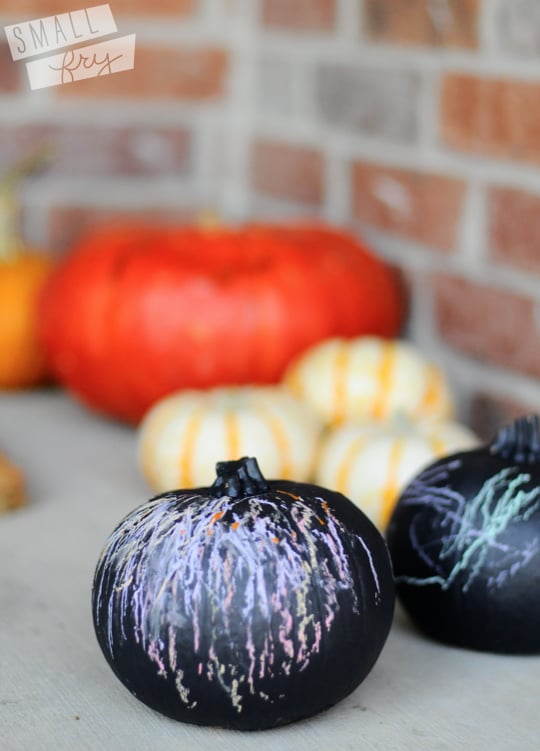 Your kids can create anything they want — as often as they want — after you cover their pumpkin in chalkboard paint!