Parents Throw Children Out Window to Save Them (VIDEO)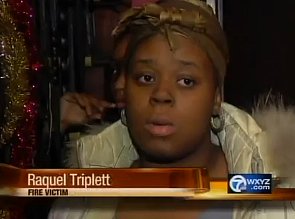 The parents of three young children were forced to take drastic measures to save their family when they woke up Friday morning trapped in a house that was on fire. Surrounded by smoke and heat, they realized that the only way out was a window. With no other options and no time left, they threw their five-year-old, one-year-old, and one-month old children out the window.
Fortunately their neighbors ran to catch the children. The family escaped uninjured. "Everything was destroyed," said Raquel Triplett. "The only thing we got out with was ourselves."
Read the whole story (ABC News)
Do you have a fire escape plan?